Heaven Talachy, an emergency management major and active member of the Phi Theta Kappa Honor Society at Eastern New Mexico University, discusses her Eastern Experience with the ENMU News.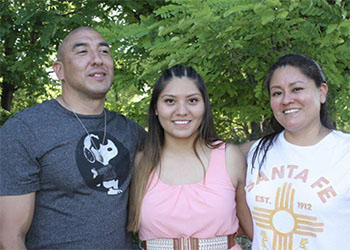 Why did you choose to study emergency management?
It wasn't until I became a student intern for the Los Alamos National Laboratory's Emergency Management Division that I was introduced to emergency preparedness. I was welcomed with open arms, taught new things and I knew I found my calling. I wanted to continue my education in something I was passionate about, and emergency management was it.
What do you hope to pursue as a career?
My current career goal is to gain more experience within emergency management with my recent transition from the student-intern position to an emergency preparedness coordinator responsible for supporting the application of the program at the Laboratory.
What advice would you give to students who are interested in your field of study?
My advice for those who are interested in emergency management is to ask as many questions as you can. Professor Lawrence Nelson is a great resource to have and can point you in the right direction if you are looking at a specific agency or organization. The world of emergency management is a very exciting and fast-paced field.
Tell us about your family and background.
I was born and raised on a small Native American reservation called Nambe Pueblo. I am the oldest of four children and eight grandchildren. I was brought up in a traditional household and watched my mom pursue her career in microbiology.
Why did you choose to attend ENMU?
Once I graduated from the University of New Mexico with an Associate of Applied Science in Public Safety, I wanted to continue my education in emergency management. I chose ENMU because they offered online courses and were one of the few colleges that offered a bachelor's program in emergency management. I knew ENMU was the right fit for me because it allowed me to study at home on my own time and continue to work during the day.
What is your favorite part about being a Greyhound?
My favorite part about being a Greyhound is the endless resources and support ENMU has to offer. My transition from UNM to ENMU has been seamless, and the personnel continue to help me with any questions I have. My classes may be online, but I continuously meet new people and learn new ideas from them.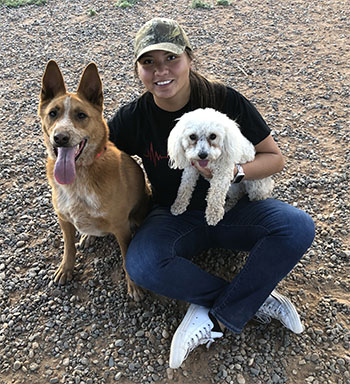 Which professors have helped mentor you during your time at ENMU?
During my time at ENMU, Professor Nelson has been my main mentor and continues to guide me in my path of emergency management. I have learned so much from his lectures and have been fortunate enough to be able to apply that knowledge in my everyday work.
What has been your favorite class at ENMU?
So far, my favorite class at ENMU has been the Community Risk Reduction for Fire and Emergency Services course. The course focuses on understanding the ethical, sociological, organizational, political and legal components of community risk reduction by developing a community risk reduction plan. I got to collaborate with different students and learn about their community risk reduction plans and how they could contribute to their community.
Share some of your extracurricular activities.
Outside of the classroom, I participate in my community and find ways to get involved. As far as committees, I am a part of the Tewa Language Committee for Nambe Pueblo. With COVID, it has limited the number of activities I can participate in. I hope that changes in the future because I like to get involved with my community and other outside organizations.
What are your hobbies?
On my days away from work and school, I love to spend time with my family and friends, draw and play with my dog, Grizzly. I try to cherish the moments with my family and friends but also enjoy hiking around New Mexico.