Tianna Boone, a business major, is a member of Eastern New Mexico University's softball team and hopes to become a softball college coach. Another dream of Tianna's is to open a cat café, where customers can enjoy a meal or drink surrounded by friendly felines.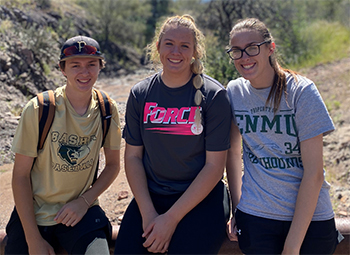 The sophomore's newfound interest in business started during her freshman year, where she shifted from criminal justice to undeclared before ultimately landing on business after a discussion with her parents where they told her about the plethora of opportunities the degree would provide.
If she decides to pursue a career as a softball coach, she hopes to "be known as one of the greatest softball coaches to ever live. I want people to talk about me and about how I am good at what I am doing."
Tianna also hopes to "save all the animals in pounds and create my own rescue where I know they are well taken care of before going to their forever families."
She chose to attend ENMU because "as soon as I stepped on campus it felt like home, and I felt so welcomed here. I also got a softball scholarship and met the team when I came here, and they were amazing and a great group of girls that I knew I wanted to play with."
The dean's list honoree often volunteers in the community with her teammates. She enjoys the sense of community in Portales and getting to spend time with her teammates. "I could not imagine where I would be at in life if I did not have my teammates by my side," she says. One of her teammates is her twin sister, Tava, who is on a softball scholarship, as well. "We look nothing alike and are completely opposite," Tianna adds with a laugh.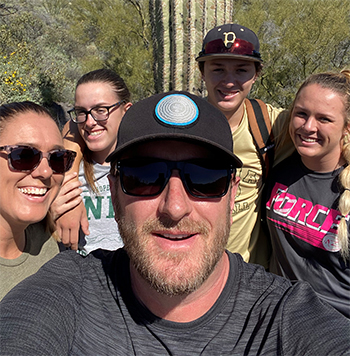 Tianna and her sister were born and raised in Salt Lake City, Utah, until age six, when they moved to Gilbert, Arizona. They have a younger brother. Their mother works for Instacart, and their father works for a company called Matson.
Tianna's favorite activities on campus are "exercising with LV in his weight room and studying in the Golden Student Success Center because I get most all of my work when in there and feel productive when I go there."
A professor that stood out to the Greyhound was Abigail Pino, who, Tianna explains, "helped me grow in and outside of the classroom. She was always understanding and willing to help no matter the problem. She was someone that you could go to and talk about life without feeling judged. She cares about her students as well as their success and would do anything to help them succeed."
Tianna's favorite ENMU course so far has been Interpersonal Communication. "I loved this class because I loved what we were learning in there, and I was invested in learning more," she shares. "I also loved the professor and felt as if she was helpful and understanding."
She offers some words of wisdom to students interested in her field of study: "These classes start off easy but can get overwhelming if you aren't staying on top of your work. Always reach out to the professors when needed because they are very helpful and understanding."
Tianna shares that she is "spontaneous" and loves to "make new memories, meet new people and hang out with friends and family. I go for drives and listen to music and love to watch the sunset and sunrise."