Parker Yi, a double major in music education and performance at Eastern New Mexico University, hopes to pursue a performing gig with a professional ensemble or a job as a band teacher at the high school or collegiate level. "Music has become a huge passion for me and has been one of the driving forces behind my academic and extracurricular success through the years," Parker explains. "By pursuing a career in one of these two fields, I hope to instill that same passion in others while still being able to do what I love every day."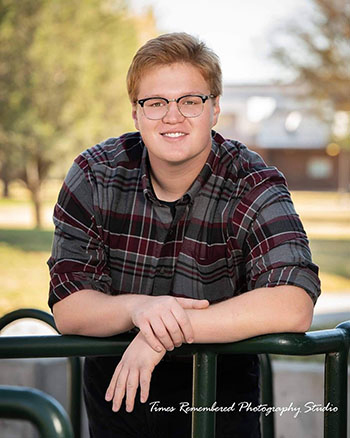 The Greyhound originally planned to study computer science as a major, but, as he went through high school, he found a passion for fine arts, specifically in music-making. He still would like to pursue his interest in technology and computer science on the side in the future.
He offers advice to students interested in pursuing a major in music education or performance: "Many students are affected by burnout, and job security is not always a guarantee. Before deciding to pursue a music career, it is important to be sure that you are truly passionate about it and are prepared to have it as part of your everyday routine."
Parker commends the Department of Music faculty for being "very attentive to my needs and those of other students. I certainly have the strongest connection with Mr. Dustin Seifert, who has given me euphonium lessons for around three years now. His guidance has helped me to become a far better player than I ever could have on my own."
The sophomore was born in Clovis, New Mexico, and has lived in Portales, New Mexico, for most of his life. He lives with his younger brother, grandmother, and mother and her boyfriend. His mother is a manager for Ashley Furniture, and his grandmother is a cafeteria worker for Portales Schools. Parker served as the drum major of the Portales High School Band and president of the Portales chapter of the National Honor Society. He was also heavily involved in the Portales High School Theatre and Choir programs. He was employed at Privett Hatchery last summer.
He chose to attend ENMU because it was the "closest and most cost-effective option. I also see the Department of Music as a high-quality place of learning with a wealth of quality staff to guide me towards my degree.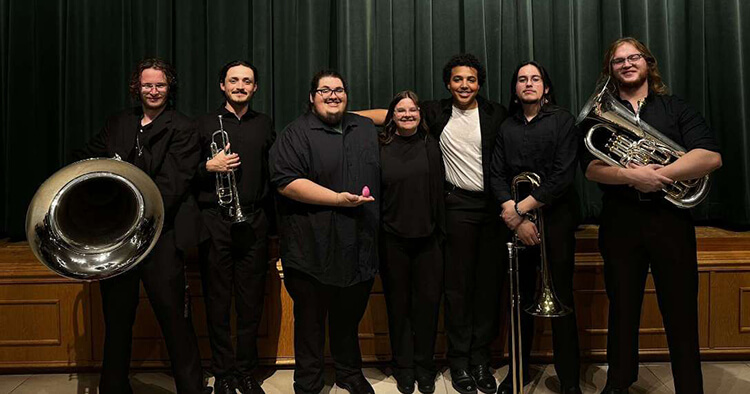 "In such a small town, there is a wonderful sense of community that comes from being a student at Eastern," states Parker. "It's never hard to find a friend or someone to get advice from, and it is easy for the whole community to become invested in the various sports, activities, businesses, etc. that are around town."
The dean's lists honoree has received the ENMU Greyhound Starter Scholarship, the New Mexico Lottery Success Scholarship, an academic scholarship and scholarships from the Portales Rotary Club and the Addie Swearingen Foundation. He is a member of ENMU Bands and Kappa Sigma Fraternity.
Parker's favorite class at Eastern was English Composition with Dr. Carol Erwin. "The class provided a learning environment that welcomed discussion with interesting, and often relevant, topics and allowed me to hone my writing prowess," he says.
Before the pandemic, he enjoyed going to the Golden Student Success Center to study and socialize. "It's large facilities and ease-of-access made it an ideal spot for work, or just a good conversation," he explains.
Parker's hobbies include playing and learning instruments, including the euphonium, trombone, guitar and piano, socializing with friends, usually in the form of video games and collecting CDs and vinyl records. He would like to learn how to snowboard and play a drum set.
When asked to share an interesting fact about himself, Parker says, "I survived a car wreck when I was younger, and now I have a fish-shaped scar on my wrist."