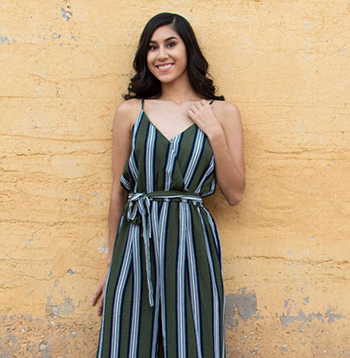 Yara Franco, who is majoring in business administration with an emphasis in hospitality management at Eastern New Mexico University, hopes to become a general manager in a casino or hotel and, eventually, open a hospitality business and become the owner of a well-known hotel.
Yara's lifelong interest in the management field and hotels and her desire to work in an office setting led to her decision to study business administration.
The Greyhound, who was born in Chihuahua, Mexico, and moved to Loving, New Mexico, at age 10, chose to attend ENMU because it was close to home and offered her "everything I needed and wanted. ENMU offered the career I was looking for, so I did not even think twice. ENMU was not too overwhelming for me and allowed me to get comfortable fast."
Yara's mentors at the University include Dr. Corey Cole. Kristi Jarman, Abigail Pino and Marissa Tijerina. "They have all been super helpful and supportive, as well as available for any questions or issues I have," she shares.
The dean's list honoree, who has received several scholarships, including the Karen Ramsey Memorial Scholarship, says her favorite class at ENMU so far was Photography. "Even though it does not relate to my major, it was so fun, and I learned a lot," she explains. "I do photoshoots during my free time just for fun. This class helped me get out of my comfort zone. I also purchased a Canon camera which has helped me take professional photos of people."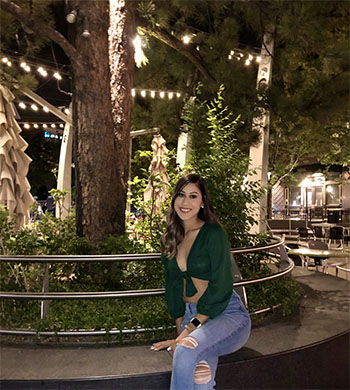 Her go-to spot at Eastern is the Golden Student Success (GSSC). "At the GSSC, I meet a lot of people, the food is good and it is a peaceful place to study," she says. "I also like that everything you may need is provided for you, like computers, scanners, printers and books."
Yara enjoys that being Greyhound means she is "able to be a part of this friendly community. It means I am part of a family. ENMU has opened up so many doors for me, and I will forever cherish all the memories I have made as a Greyhound."
The sophomore offers advice to students interested in obtaining a degree in business administration: "I encourage every single one of you to pursue this career. I am still learning, but from what I know is that every class has been enjoyable. Business is a great field of study simply because we deal with some type of business-related topic every single day of our lives. The business world is bigger than you think; there is something for everyone out there."
Yara's parents moved to New Mexico from Mexico when she was a child to "look for a better future. I have three sisters; I am the oldest out of the four of us. I live with my parents, Gabby and Ricky Franco. My dad is a full-time welder and provides everything for my family."
She hopes to start a family of her own someday. "I want to move to a bigger city and live a stable, happy life with a big family," she says.
Yara, who volunteers at her community church, shares that her hobbies include coloring, painting and spending time with her sisters and boyfriend. In warmer weather, she likes to visit rivers and play basketball at parks.