Trystan Hennessy chose to major in communicative disorders and minor in health and human services at Eastern New Mexico University because she was "intrigued by knowing I could help others learn how to express themselves. I think it is simply beautiful that speech-language pathologists (SLPs) can guide their clients to prevail against their speech disorders to communicate with others."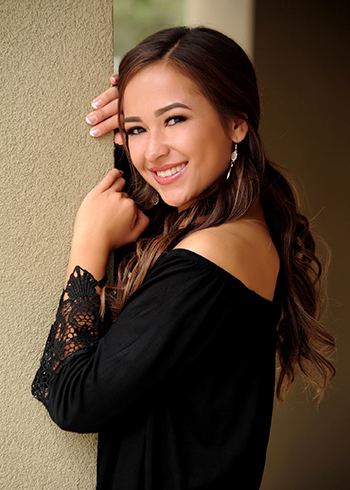 After Trystan graduates with a bachelor's degree in spring 2022, she plans to pursue a master's degree and become a certified SLP. She hopes to work with primary-aged children in public schools and eventually work at a rehabilitation center.
"My ultimate goal is to establish trust in my community that I am an educated and devoted SLP," she explains. "I want my passion for my career to be noticeably seen when I work with patients."
ENMU is helping Trystan prepare for her career. She discusses a sign language course that made a huge impact on her: "I took Kiki Gray's sign language class during the spring semester of 2020. Even though we had to switch to online learning that semester, she helped me more than I could have thought. How she spoke about the deaf community helped me realize the importance of recognizing people for themselves rather than their disability. That small yet valuable piece of advice is something I will carry with me throughout the rest of my educational and professional career."
Another class that stood out to Trystan was Speech-Language-Hearing Anatomy and Physiology. "It was a very hands-on class," she shares. "We were assigned multiple art projects and were asked to think outside of the box. I can confidently say that a whole year later, I still remember the material I learned because my professor integrated the arts."
Her advice to those interested in studying communicative disorders is to "save and keep educational materials for later! There have been countless times where I refer back to a page of notes or articles from past semesters. Organizing my learning materials has saved me from hours of research because I can quickly refer back and recall what I had learned."
The junior was born and raised in Clovis, New Mexico, and is a sibling to three younger brothers, Tiger, Titus and Timothy. She has strong ties to ENMU; her parents are both Greyhound Grads. Her mother, Sara, is an elementary music teacher in the Clovis Municipal School District, and her father, Jason, is a financial advisor.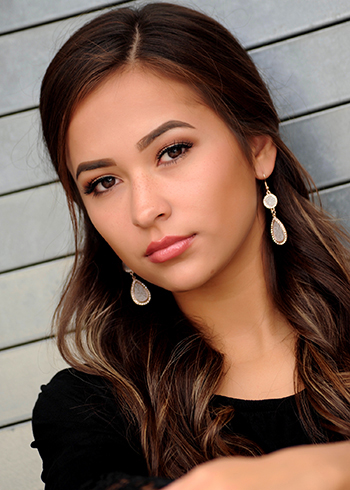 Trystan chose to attend Eastern because it was close to home and affordable. She adds, "The main reason why I chose to attend ENMU is because of the great Communicative Disorders Program. Before attending, I heard great things about the program and professors from multiple people. An acquaintance of mine that graduated from the program shared with me that she felt very confident and prepared when she graduated and was able to receive a job as an SLP in Lubbock."
The recipient of the Dr. Bettie McClintock Sertoma Club Scholarship's favorite aspect of life as a Greyhound is "being surrounded by people who also love to learn and are passionate about the same thing."
She enjoys going to the Golden Student Success Center because it allows her to "remove myself from outside distractions and focus on my schoolwork. I enjoy the atmosphere created by the beautiful architecture, staff and other students."
The dean's list honoree is in her third season of coaching the Clovis High School Color-Guard. She is also a local dance instructor at the Dance and Cheer Force Studio, where she teaches ballet, jazz, lyrical and hip-hop classes.
Trystan discovered her new favorite hobby during quarantine when she had more free time. She says, "Painting is very relaxing to me. I like to explore with different techniques to create unique art."
Her dream is to "start a family of my own one day. I do not have any plans of where I would want to raise my family, although I would love to travel the country."