Nyah Cate, a communicative disorders major with a minor in health and human services at Eastern New Mexico University, hopes to become a speech-language pathologist (SLP). Her goal is to become a traveling SLP immediately after graduate school to gain experience in the profession.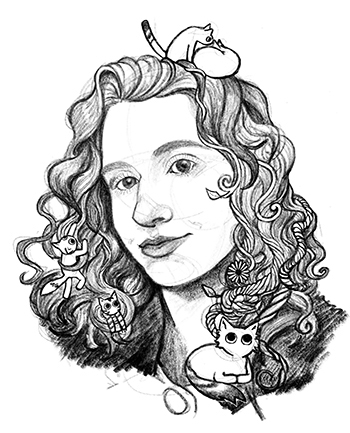 "I hope to work in a hospital to help those with swallowing disorders as well, as swallowing physiology is incredibly fascinating to me," she says. "I want to work a bit in every environment that the profession has to offer so that I can discover what I want to specialize in. This would also allow me to work with as many different types of people as possible, which would be the most fulfilling part of my career."
Nyah was born in California and raised in Colorado. The Greyhound shares that she has a "talented family that all have unique interests and talents. My brother is a tech-guru with a taste for traveling, my mother is an accountant who will be graduating with her master's degree at the same time I graduate with my bachelor's, and my father is an incredibly talented creator and pianist."
Her interest in communicative disorders started during college. She initially was interested in electrical engineering but found that the career was too focused on the technical aspect rather than on her passion for people. She consulted with her parents and went through numerous degree options until communicative disorders "suddenly struck" her. She explains, "the way the body produces speech while maintaining the necessary functions for life is something that this degree has given me a passion for. I especially love studying the intricate details of speech and hearing mechanisms. Thus, I chose this field because of its involvement in a variety of environments, such as the ability to work in schools and hospitals, and its travel options, as well as its allowance to work with a diverse array of people."
Nyah transferred to Eastern after discovering that her previous college was not a good fit. "I needed a program that was both affordable and would work in the current times, which was why ENMU was the perfect fit," she states. "It offers me the degree I am aiming to achieve in addition to having a caring community with ample amounts of learning opportunities."
She loves life as a Greyhound, sharing, "there are so many opportunities here! Even as an online student, I have found so many ways to participate in events. For example, I have attended ASAB's 'Painting with a Twist' night on Zoom and participate in National Student Speech Language Hearing Association (NSSLHA) meetings through the same app as well.
"An absolutely amazing artist named Angela Sanchez also drew a portrait of me through ENMU's virtual 'Face It!' event, and I have never experienced that with any other school," she continues. "Take it from a transfer student who has already attended one other college; ENMU has tons of opportunities for you to grow and find your place in this diverse community, whether it be online or not."
The dean's list honoree's mentors in the Communicative Disorders Program include Dr. Suzanne Swift and Dr. Ali Lunt. "Dr. Swift was the first professor that I had a class with, and she helped me discover my passion for studying communicative disorders," she says. "She has provided me with an ample amount of resources pertaining to the world of speech-language pathologists. Dr. Lunt has also helped me by providing abundant amounts of feedback on my anatomy and physiology projects, and I have appreciated how much effort she puts into teaching her students."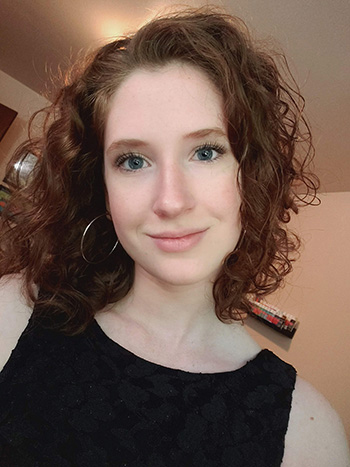 Nyah is currently taking her favorite class at ENMU so far: Anatomy and Physiology of Speech and Hearing Mechanisms. "This class has inspired me in so many different ways which has allowed me to express my creativity," she states. "Part of the class that I particularly appreciate is creating 3D models of speech and hearing mechanisms, such as the eardrum or larynx. Taking this class has inspired me to take regular anatomy and physiology next semester, and I am psyched to learn how everything works together as a whole system."
She offers guidance to students considering going for a degree in communicative disorders: "If you love language and anatomy, then this is the career for you. I see this degree as a jack-of-all-trades, as you have the ability to work in a variety of environments while learning and gradually specializing in an area that you love. It is semi-medical and semi-linguistic based, so if you can take seeing a throat swallow through a nasal endoscopy, and enjoy helping people with speech disorders, then this is the field for you."
Outside of the virtual classroom, Nyah works part-time as an art gallery consultant. "I have been working at the same company for the past four years and have learned an incredible amount of information through my job," she shares. "I have also volunteered and worked at a living history ranch that encourages guest education through interactive house tours and cultural education about the area."
Another extracurricular activity, serving as a member of ENMU NSSLHA, allows Nyah to help the organization promote high-quality support services for those with communication disabilities in New Mexico.
The junior's hobbies include creating content for online platforms as well as hiking on local trails. She enjoys taking part in "anything that involves creativity. I love expressing myself through mediums like painting, drawing, or clay modeling. I find that physical representations of art can have a powerful impact on the people that see it."
Nyah, who is also passionate about cuisine, says one of her dreams is to publish a vegan cookbook due to her love of cooking. "I have been working on creating new recipes through experimentation and alteration of online recipes, which has led me to create some delicious meals," she says.
Another goal of Nyah's is to gain fluency in American Sign Language, which she is already making steps towards as she has taken two semesters worth of sign language classes.