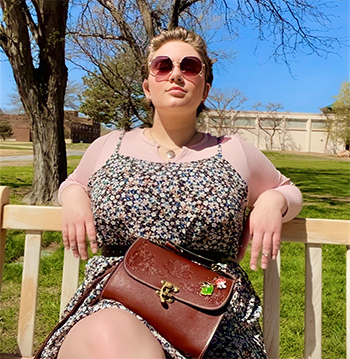 Lauren Anderson is majoring in biology with an emphasis in pre-medicine with a minor in chemistry at Eastern New Mexico University and hopes to go to medical school after receiving her bachelor's degree this fall. She is still deciding on a specialty.
Lauren has had a lifelong interest in science, specifically biology, sharing, "I love learning about how elements of life all around us are similar and connected on the micro and macro scales." She has "always" had the goal of becoming a doctor.
The Greyhound hopes to one day live in a place where she can walk out of her house and go hiking: "I have a recurring dream of living in a small, forested town and commuting to the bigger city to be a doctor."
The senior was born and raised in Arizona. She lost both of her parents to terminal cancer last year. Her younger brother, Cody, plans to attend ENMU as a freshman next year.
Lauren chose to attend Eastern because of the University's small size. "Growing up in Arizona, my first choice was Arizona State University but, after touring both schools, I realized the smaller class sizes and more face time with professors was going to be better for me," she explains. "I have been able to be a part of a lot more opportunities at this school than I ever would have at a huge university. This school is a diamond in the rough."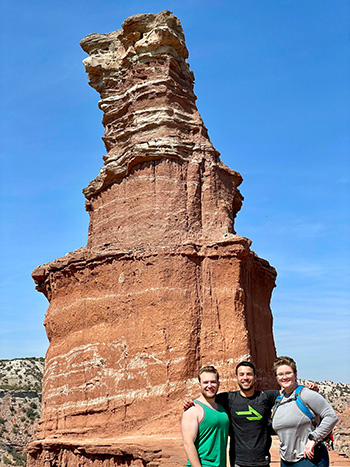 The dean's list honoree served as a STEM Club mentor for several semesters. She is currently an orthopedic medical assistant at Plains Regional Medical Center in Clovis, New Mexico, and volunteers at the Food Bank of Eastern New Mexico.
Her favorite thing about ENMU is the "sense of community that this school builds with not only its current students but its alumni and the local community around it."
Lauren shares that Dr. Matthew Barlow, associate professor of physiology at ENMU, has had a "big influence on my academics as an advisor, and fostered my love for anatomy and studying the human body."
Her favorite place to study is the Golden Student Success Center. "On the weekends, even with COVID restrictions, I will spend 7-8 hours there, catching up on schoolwork from the week," she says. "The vibes are immaculate, and I just love being able to hole up in a study room and grind out on my assignments."
The first-place winner at the ENMU Student Research and Creativity Conference in 2019 advises students interested in her field of study to "study, study, study. Develop good study habits as early as you can and always incorporate breaks into your longer days. Quality of studying over quantity is also very key to learning."
Lauren's hobbies include powerlifting, hiking and photography. She was able to explore the latter in a black-and-white film photography course she took during her freshman year. She shares, "Getting to learn how to use a film camera and develop film was such a great experience. I think it has even helped me become a better photographer with my digital cameras."