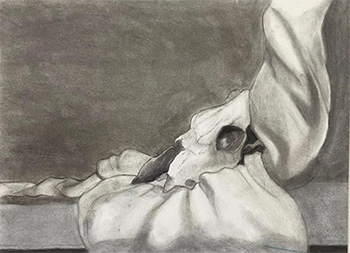 Kaytlyn "Kaytie" Johnson is majoring in graphic design at Eastern New Mexico University with a dream of becoming an illustrator for graphic novels and children's books.
"I hope to be someone that a young kid can look up to and want to be like one day, the same way I looked at so many comic artists and wanted to be like them," she shares. "My main dream is to be a successful person who loves what they do."
Her mentors at ENMU that have inspired and mentored her include her advisor, Scott Golem, and Mario Bocanegra-Martinez, an assistant professor of art in graphic design. "Even if I get frustrated sometimes, they help me out and show me the best way to make what I have work," she explains.
Kaytie enjoys taking typography classes at Eastern. Another aspect of Greyhound life that she likes is "the kindness everyone shows. We're going through unprecedented times, and even though we're all stressed, everyone's been very understanding and kind about everything,"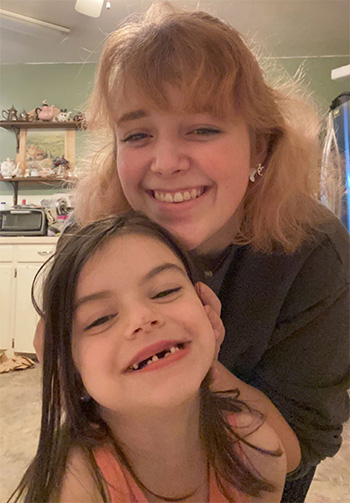 She chose to attend ENMU because it was "the most affordable of my college options. My aunt and uncle also lived in Portales, and my uncle working on campus helped solidify my decision."
The junior shares why she decided to pursue a major in graphic design: "I've been drawing ever since I could hold a pencil but didn't find a real love for it until high school. When I was researching art careers, I found graphic design and have been in love with it ever since."
Kaytie encourages students interested in pursuing a degree in graphic design to "work really hard, always keep your artwork as anything can be perfected for a portfolio and don't forget to get plenty of good rest between projects."
The dean's list honoree is a member of Chi Omega and serves as vice president of the Figure Drawing Club. She recently had two art pieces featured in the K through ENMU show at the Runnels Gallery in the Golden Student Success Center (GSSC).
Her favorite places on campus are the Eddy Hall Computer Lab and the GSSC.
Kaytie was born in Silver City, New Mexico, and raised in Andrews, Texas. She has one little brother that she is very close with, and she babysits a little girl who is "practically my little sister." Kaytie's mother chose to stay at home with her children when they were born, and her father is a welder.
The Greyhound's hobbies include drawing, reading and painting.
Kaytie's artwork.