Payton Santillanes, who is majoring in communication with an emphasis in broadcast production at Eastern New Mexico University, plans to work in sports news. His dream job is to cover the Olympics.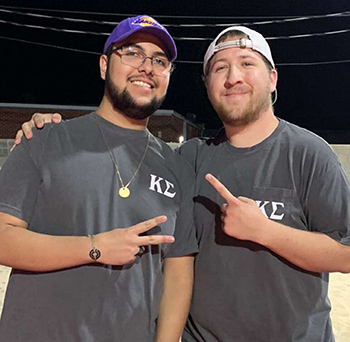 He chose his major because he has "always loved working with technology, and I've always had a passion for working with cameras in particular."
The dean's list honoree is a recipient of the Portales Rotary Club Freshman Award and the James D. Jungbluth Memorial Scholarship, both from the ENMU Foundation, as well as the Boy's State Scholarship.
He is a member of Kappa Sigma Fraternity, where he serves as the assistant grand scribe and holds the media chairmanship for the chapter. He loves to spend time at the Kappa Sigma house since that is where he met "the majority of the important people in my life at the moment."
The freshman was born and raised in Portales, New Mexico. His father works at Yucca Telecom, where he installs fiber optic for internet. Payton has a half-brother, who he enjoys seeing when he has the opportunity.
Payton's favorite class at ENMU so far was a dual-enrollment course with Dr. Carol Erwin, professor of English, which he took during high school. "Dr. Erwin helped take my writing skills to the next level, which has helped in every facet of my life."
The Greyhound has many dreams and plans to make them come true. He shares: "I fully intend to skydive one day, to face my fear of heights. Sure, everyone dreams of fancy cars, big houses and kicking your feet up in a 5-star hotel somewhere, but honestly, my dream is to get a job where I love what I'm doing and surround myself with people who love and care about me.
"I also want to teach younger generations that you can come from a small town and have the career of your dreams if you work hard enough and make the right decisions, and I want my life to reflect that," he continues. "I also want to travel to as many places as possible and see what beauty this world has to offer. I never really traveled as a kid, so as an adult, I fully intend to fill up the pages in my passport!"