Abby Brown, who is majoring in elementary education with a minor in language arts at Eastern New Mexico University, became inspired to pursue a career as an educator after watching her mother teach.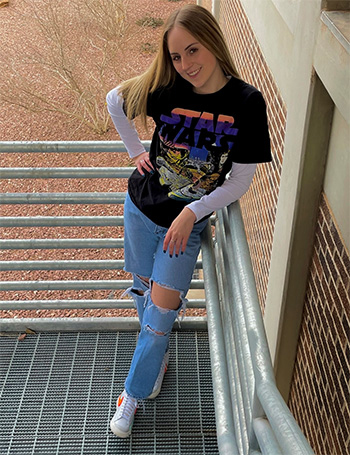 "Throughout high school, I loved going into her classroom and helping her," says Abby, who wants to be a kindergarten teacher. "I love being around kids and watching them grow."
Her goal is to "be the best teacher I can be."
Abby was born and raised in Portales, New Mexico. Her mother is a kindergarten teacher at Brown Elementary, and her father is a pastor at The Porch and coach of the boy's basketball C team at Portales High School. She has four siblings, Josephine, Anthony, Jenna and Josh.
She explains that she chose to attend ENMU because the University was in her hometown and "super affordable."
Abby offers advice to students interested in her major: "Yes, it does get hard. There are times you want to give up and switch your major (thought of this many times), but you just have to hang in there and keep pushing because it will all be worth it someday!"
She loves life as Greyhound since she gets to "be around different people every day and gain knowledge to be successful in my career someday."
The junior's favorite place on campus is the Golden Student Success Center because she can meet with friends to study and chat.
The course Abby enjoyed the most so far at Eastern was Ceramics because it helped her rest her mind when she was busy with other classwork.
The dean's list honoree works at Daylight Donuts in Portales. She also volunteers at her church and leads worship at the BSU.
Her hobbies include spending time with friends and family, painting, traveling and visiting new places, and outdoor activities, such as swimming, hiking, biking and walking around her neighborhood.