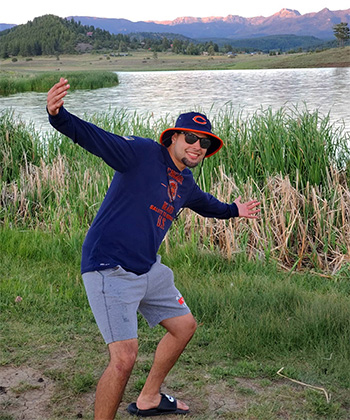 Jonathan Pena, an undergraduate student studying elementary education with an emphasis in history with Secondary Social Studies licensure at Eastern New Mexico University, plans to teach history at the high school level until he receives a master's degree in history. Once he graduates with his master's, he hopes to teach history at a community college. He is also considering pursuing a doctorate.
The Greyhound, who was born in Clovis, New Mexico, and raised in Portales, New Mexico, chose to become an educator due to his parents being involved in the field. His mother has been a teacher for 15 years, and his father, who now serves as a programs specialist for the Ninth Judicial District Attorney's Office, was a coach for 13 years. "Being able to see how they both worked with students and were able to make a positive impact on their lives really inspired me to become a teacher," says Jonathan, who has an older brother who serves as an IT tech for Portales Public Schools.
Jonathan is a recipient of the Greyhound Promise scholarship and the Jack and Ladeane Murphy Scholarship in Education. The dean's list honoree chose to attend ENMU because it was affordable, and the University has been part of his life since childhood.
His favorite aspects of life as a Greyhound are "the friendly atmosphere and the fall semester. I say this because in the fall, with all the new students, there is an excitement and buzz to the campus. I can't wait for next semester and seeing ENMU come back to life."
Jonathan served as a Dawg Days counselor in 2019, a Dawg Days coordinator with his partner, Alexis Rodriguez, in 2020, and will take on the role of counselor again this fall. The Safe Ride driver is the secretary of Educators Rising and presented at an Educators Rising State Conference with Marisa Luna, a fellow student, and Dr. Kathleen Wagner, associate professor of secondary education at ENMU.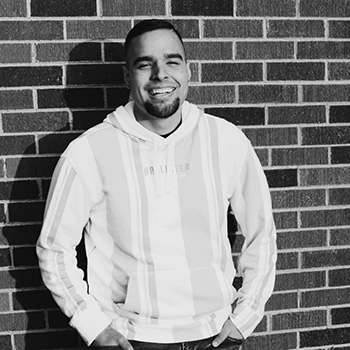 Two professors Jonathan recognizes as mentors are Dr. Wagner and Dr. Dhimitraq Duni, assistant professor of mathematics education. He shares, "Dr. Wagner has shown me how to make the learning environment fun and how to make your classroom a family. Dr. Duni showed me how to think outside of the box, while still having fun learning math."
The senior's favorite class at ENMU was EDF 222 with Dr. Wagner. "I was able to see how we can teach students in so many different ways and how we can make learning exciting even at the college level," he explains. "In that class, we became a small family, and everyone had a good relationship with one another, which was great. I made some lifelong friends in that class."
He offers advice to students interested in pursuing a degree in education: "Sometimes you will be very tired and worn out, but once you help a student and they have that 'aha' moment where they understand what you are teaching them, it is a great feeling knowing you are making a difference in a student's life."
You can often find Jonathan at the Campus Union (CUB). He says, "It is my favorite place because you never know who you may run into or what event is going on in the building. The CUB always has something going on for everyone."
Jonathan's hobbies include going to concerts and sporting events, hanging out with friends and playing video games.