Rebecca "Reba" Toledo, who is majoring in forensic science with an emphasis in anthropology at Eastern New Mexico University, fell in love with her field of study when she first started watching "Bones" in 2010.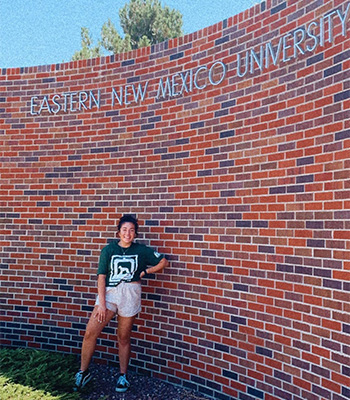 She shares, "I had to do some major research to know and understand what my future career field was about. Although it can be extensive, my dream to become a forensic anthropologist has never wavered."
Reba hopes to someday work on cold cases, ranging from bringing soldiers home from older wars to working within a division of the FBI. She explains, "I want to be able to give a voice to the individuals whose lives were cut way too short; many are forgotten by our justice system and only live on in the memory of their loved ones. I want to be to give their families closure, to give those individuals themselves closure even if they are no longer with us."
The classes Reba is taking at ENMU are preparing her for that career path, including her favorite course so far: topics in Anthropology. "Although it was just a replacement class due to COVID-19 clashing with a mandatory class needed for my degree, I am still very glad I am taking it," she says. "This class covers a wide range of different topics that fall within the branch of anthropology. I have learned a vast of fascinating new things about my major, diseases, cultural differences in burials and advancement within the community. It can definitely be gruesome and gross at times, but absolutely fascinating!"
A professor who has served as a mentor to Reba is her advisor, Dr. Susan Kuzminsky. "Hearing about the cases she has worked on and the fieldwork she has done in the Andes, [Dr. Kuzminsky] is just an all-around individual that I look up to and look towards when in need of advice with my major," shares Reba.
The spring 2021 dean's list honoree advises students interested in pursuing a forensic science degree to "always remember why you started. The road is going to be vast and tiring, plans change and failure occurs, but at the end of the day, everyone within this career field has the same goal: to identify and give back a piece of humanity to those individuals who no longer have it. We are the few who are willing to give a voice to the dead, to bring justice for those who can no longer seek it and to find the truth."
The senior chose to transfer to ENMU after her previous university stopped offering her desired major before she had the opportunity to attend the required upper-level courses. She explains, "I had to embark on a journey to find a new school that would meet all my academic requirements and would allow me to advance further instead of possibly widening a gap. I found that one of the biggest names in forensic anthropology had actually received their undergraduate degree at ENMU, the late Dr. Clyde Snow.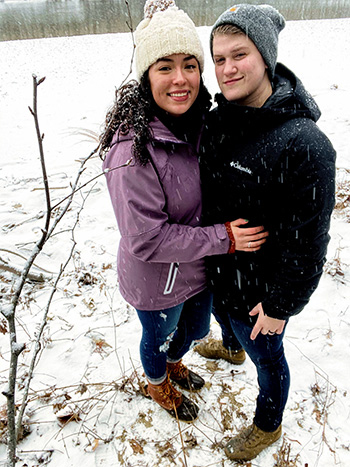 "I looked further into ENMU and found that the school actually offered far more than I had ever dreamed of in my degree plan," she continues. "I fell in love with the school and the community it had, and so on a blind leap, I applied and got accepted. Without even touring the school, I moved my whole life from Huntsville, Texas, to good ol' Portales, New Mexico, on a leap of faith, and I have no regrets."
Her favorite aspect of life as a Greyhound is "the community, hands down. I originally came from a bigger college, where I felt like I was just a number. I really did not know my professors well and only ever traveled to one part of campus due to it being so far and wide. But here at ENMU, I have always felt like my voice can be heard, and I matter. I feel like part of this big family and, for a girl who got quite a culture shock when she first moved here, was surely more than welcomed into that feeling."
Reba is a member of the Gender and Sexuality Alliance and hopes to attend Forensic Science Club meetings this fall. She will serve as a Dawg Days counselor for her second year in a row this August.
She enjoys spending time in the Art and Anthropology Building. She shares, "I find that place to be like a second home to me. Many of my classes are held there, so naturally, I spend much of my days there.
"There's just something about it; I never feel out of place being within those walls, whether it's sitting inside and studying for an exam with a couple of classmates or in the back of the building enjoying the sun while eating fruit snacks," she continues. "I am definitely going to miss it when I graduate."
The Greyhound was born in Veracruz, Mexico, and moved to Houston, Texas, when she was seven. She has a younger brother who will be going to college soon. "I am excited for him to see what adventures and journeys he can find out there," says Reba. Her mother is a realtor, and her father is an engineer in the oil industry. Reba's fiancé is stationed in North Carolina.
She has two dogs which are two years apart in age, Keegan and Ophelia. "At times they can act like Tom and Jerry at 2 o'clock in the morning," she laughs.
Her hobbies are reading, watching anime, painting and drawing "anything and everything," listening to music, singing and dancing. She also likes traveling to "new and known places.
"I hope to travel again soon," she says. "I have had the privilege of being able to travel to different countries while I was growing up, even if that meant moving and starting over at a young age, but I have this fascination of always learning new things from different places, people and cultures. There is not one dull place in this world that is not worth visiting at least once."
Reba with her friend Bella at the Farrington Competition for ASL where they, as part of the ASL Honor Society, were interpreters for the attendees.