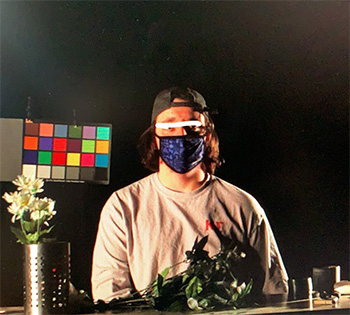 Calvin Grace, who is majoring in digital filmmaking at Eastern New Mexico University, dreams of becoming a screenwriter and actor due to a love of writing and acting that started at a young age.
"I hope one day, I can buy a ticket to a movie and read the credits where it says written by Calvin Grace," he says.
Calvin, the recipient of a student filmmaker scholarship, is working on two films. He hopes to turn them in for competitions to "get my name out there."
He has been in two films as an extra. "In one of the films, I was on set with Haley Lu Richardson, who I made laugh," he shares. "She had to get the makeup artist back to fix her up because I made her cry laughing; that was probably the best moment of my film career so far."
The dean's list honoree was born in Las Cruces, New Mexico, and moved to Albuquerque, New Mexico, in 2009. He has three older sisters, and his parents both work as medical device reps.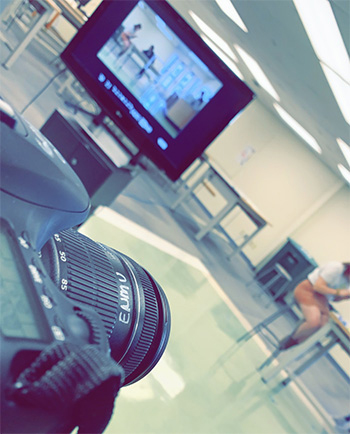 He chose to attend Eastern because "I thought it was the best choice for film being so close to Albuquerque and also having the best film department that I have seen; it was the best thing I could have done."
The junior offers advice to students interested in his field of study: "Connections, connections, connections and luck is what you have to remember. But seriously, if you want this as a career, you have to want it."
Rick Shepardson has served as a mentor to Calvin. The assistant professor of filmmaking has helped him "understand film and what you can do [with it]."
Calvin enjoyed a course titled writing the screenplay because "most of what I know now is from that class."
The Kappa Sigma member's favorite thing about life as a Greyhound is "the family you create." He enjoys visiting the fraternity house and the Golden Student Success Center because "they always have a fun story behind them when going to them."
The Dawg Days counselor, who is employed at Lowe's, has several hobbies, including writing, playing video games, watching football and spending time with friends "goofing around."
When asked about his other goals in life, Calvin shares that his dream is to "have a daughter and a loving family."