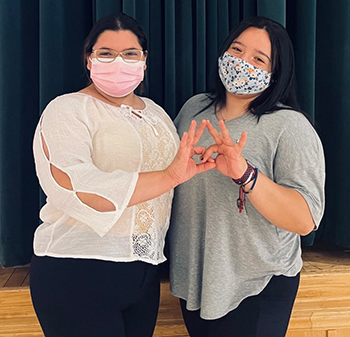 Jenna Ruiz, who is majoring in elementary education and special education with a minor in English as a second language, hopes to become a kindergarten teacher in New Mexico or Texas.
"I hope to impact the lives of my future students and to make education fun for the students," shares Jenna, who also dreams of having a big family someday.
Jenna chose to teach because of her love for children. "I wanted to impact children's lives no matter where they came from," she explains. "I wanted to be that positive impact in their life that pushes them to be their greatest self and to never give up. Teaching is the job where I can do that."
She gives advice to Future Greyhounds looking to pursue a degree in education: "In the future, you will be that light in a child's life. If you are passionate about teaching and have that love, this is a perfect career for you."
Many classes at ENMU have helped Jenna prepare for life as an educator, including ESL Methods and Materials. "That class is very interesting," she says. "I have learned so much about the history of methods and materials that have been used to help students that are EL."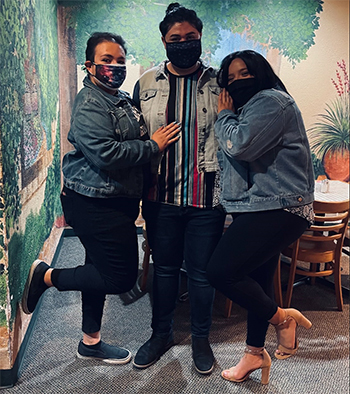 Her mentor at Eastern is Geni Flores, who serves as Jenna's advisor and coordinator of TESOL and Bilingual Education. "She is the best professor and advisor," shares Jenna.
The dean's list honoree chose to attend ENMU because "the classes were small, and so was the town." She enjoys the campus life components of being a Greyhound, including "going to the fun activities, watching games and joining organizations."
The Greyhound Promise scholarship recipient is a member of Zeta Tau Alpha and is part of the organization's Executive Committee, serving as the historian and sunshine chair of the Program Council.
Her favorite place on campus is the Child Development Center, where she works as a teacher assistant. "I love going over there and seeing all the kid's faces," she shares. "No matter what day you are having, they just always put a smile on your face."
The sophomore was born and raised in Carlsbad, New Mexico. Her sister, Jasiah Ruiz, graduated from ENMU in spring 2020 with a bachelor's degree in social work.
Jenna's favorite hobby is going to Fitvibez every week. "Fitvibez has dance fitness, which is my favorite, flexPress, yoga, Fuego mix cardio kickboxing, ballet and many more classes," she explains. "I love spending my free at Fitvibez; the ladies are so welcoming, and they are just awesome all around."