Alexandra Sena, a theatre major with a minor in digital filmmaking at Eastern New Mexico University, wants to be an actor in the film industry and work her way up to the roles of director and producer.
She shares, "I'd love to one day make content for others to enjoy and include proper representation of minorities while using my platform to shine a light on certain issues while telling a story."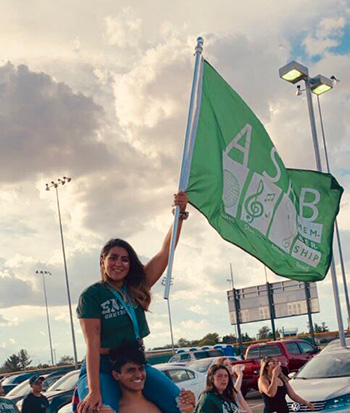 The dean's list honoree has "always enjoyed being on stage and performing. In high school, I came to Drama Fest held at Eastern. There, I auditioned and received a scholarship which made my final decision to come to Eastern as a theatre major."
She also liked that the University was affordable and close to her hometown, Carlsbad, New Mexico.
Alexandra is the recipient of several scholarships and awards, including Excellence in Performance presented by the Kennedy Center American College Theatre Festival, Rising Leader in Zeta Tau Alpha, the J. Richard Waite Scholarship, the Peggy Tozer Memorial Scholarship, and Rising Star presented by the faculty in the Theatre Program. She also presented costume designs for ENMU's Student Research and Creativity Conference.
The Dawg Days 2021 coordinator is a member of the Associated Students Activities Board (ASAB), Zeta Tau Alpha and Alpha Psi Omega. She works at Something Different, a restaurant in Portales, New Mexico.
She gives a shout out to her theatre professors Dr. Anne Beck and Adam Whittredge for "supporting my theatre career and pushing past my limits." She also thanks her digital filmmaking professors Jon Barr and Rick Shepardson for "helping me realize how much talent I can bring to film and always looking out for me."
Her favorite course at ENMU so far was a psychology class because "it was so interesting seeing how and why people act the way they do, and in a way, it helped me bring that knowledge into theatre."
She advises students interested in her field of study to "understand your limits; opportunities will always be around the corner. It's okay to say you can't do something and realize it's not a weakness but rather a strength. Be the best you can without spreading yourself thin."
Alexandra enjoys spending time at the Golden Student Success Center (GSSC), where she likes to pick up snacks from Einstein Bros. Bagels, study and look at art in the Runnels Gallery.
The senior's favorite aspects of life as an ENMU student are "finding lifelong friends and unforgettable experiences; I wouldn't be able to find this anywhere else."
Alexandra has seven siblings, including a twin sister. Her mother is a secretary at WIPP, and her father is a safety manager for constructors.
Her dream is to "eventually make enough money where I can donate as much as I can to certain charities and using my privilege to be vocal as a humanitarian and solve issues that are harming others."
The Greyhound's hobbies include drawing, dancing, singing, acting, designing costumes, reading, watching movies, painting and playing with her dog, Marvel.
She also has a fun fact to share: "Tyler Oakley liked one of my tweets, so I thought that would be a humble brag."