Gwen Buchanan, a forensic science major with minors in theatre and religion at Eastern New Mexico University, would like to become a crime scene technician to "give closure to the families of victims."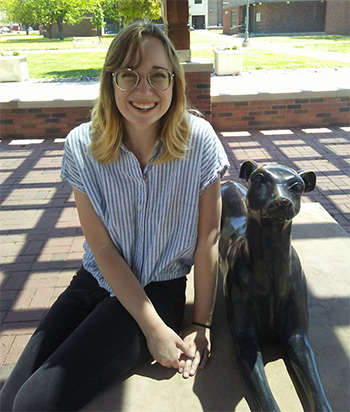 Gwen has been interested in this career path since childhood. She shares, "I've always been interested in detective stories. Growing up, I read every 'Nancy Drew' and 'Boxcar Children' book I could find in the library."
The sophomore was born in Lubbock, Texas, and grew up in that area. Her parents graduated from ENMU and are teachers. Her brother is studying history at Texas Tech.
Gwen chose to attend Eastern because of the "acclaimed forensics program and the welcoming environment."
Her favorite aspect of life as a Greyhound is the "sense of community at ENMU. When I toured campus before I graduated high school, I felt very welcomed."
While she hasn't had the opportunity to spend much time on campus as a student, she likes the Golden Student Success Center. "It's a very mellow place, and I'm a fan of books," she explains.
She has enjoyed her criminal justice courses at ENMU since they have helped her learn more about how the justice system works. Her mentor at the University is Dr. Susan Kuzminsky, director of the Forensic Science Program, who has been a source of help and knowledge to Gwen.
The dean's list honoree offers advice to students interested in pursuing a degree in her field of study: "Read books and attend seminars to learn more about fields you may be interested in specializing in. It's exciting to learn about all of the things you can do in forensic science, and Eastern hosts a lot of interesting seminars."
Gwen is a member of the Chemistry Club and the Forensic Science Society. She has volunteered at First United Methodist Church and the Wallace Theater, both in Levelland, Texas. Her hobbies include reading and embroidery.