Sierra Shoemaker, a double major in wildlife and fisheries science and cultural anthropology at Eastern New Mexico University, hopes to become a wildlife biologist for the United States Fish and Wildlife Service.
The junior, a dean's list honoree, discusses her dreams and Eastern Experience with the ENMU News.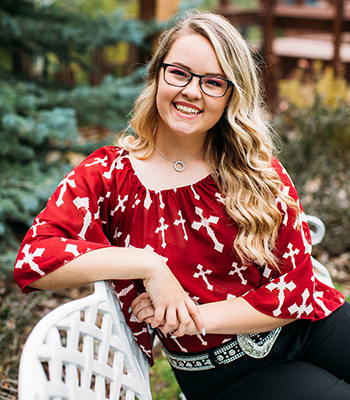 Why did you choose your fields of study?
I chose wildlife and fisheries sciences because I have a passion for animals as well as science. My dad was both a police officer and rancher; thus, I grew up loving criminal justice and animals. I also grew up in the mountains, where I could hunt and fish. This caused me to love the idea of becoming a game and fish officer. I ended up growing out of the criminal justice passion and fully loving the idea of becoming a wildlife biologist.
As for the cultural anthropology major, I love to study how cultures interact in history, as well as today. I also love to see how culture changes society. I never knew this passion fell under anthropology until my junior year of high school. That is when I decided that I wanted to be a double major.
What are your career goals?
I would ultimately like to bring more awareness to wildlife conservation, aid in bringing justice to wildlife-related crimes, better understand wildlife and their respective habitats and overall improve wildlife and their habitats.
What other dreams do you have?
Other dreams that I have that are not school or career-related are mainly to travel the United States in my van, create community gardens throughout the United States for people to build community and become more sustainable, begin a Christian YouTube channel and build a completely self-sustained forever home.
Tell us about your background and family.
I was born in Roswell, New Mexico, and raised in Cloudcroft, New Mexico. I had the amazing opportunity to go to school in Cloudcroft from kindergarten through graduation. I am an only child. My mom is a customer service representative at a medical clinic, and my dad is now the property manager of High Country Arena and RV park in Mayhill, New Mexico.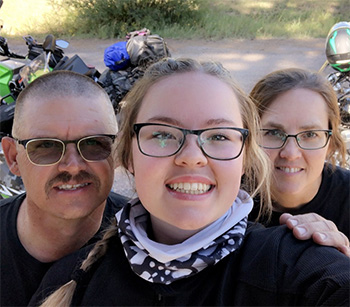 Why did you choose to attend Eastern?
I chose to attend ENMU because I love the small community that comes with being at a small school. I felt as if ENMU gave me a chance to have more personal relationships with my professors and classmates.
Which professors have helped mentor you during your time at ENMU?
Because I have only been at ENMU for a year and fully online, I have only had one really influential mentor: Dr. Ivanka Mali. She has helped me to grow in my passion for wildlife, and she has given me the opportunity to work with her research team in order to help me gain experience and help me begin my career within my passions.
What advice would you give to students who are interested in your field of study?
I would tell those students to put forth all the effort they have into creating relationships with their professors, make sure to work their hardest to maintain high grades, ask a lot of questions and work towards getting student jobs within the realm of the wildlife degree to gain experience and build their resume.
Where is your favorite place on the ENMU campus?
Because I have not yet gotten to fully explore the ENMU campus due to COVID-19, I don't really have a favorite place. From what I have gotten to see, though, my favorite place would be the Golden Student Success Center (GSSC). This is one of my favorites because I think the GSSC is a great place for students to study with the number of resources and amount of space that is available.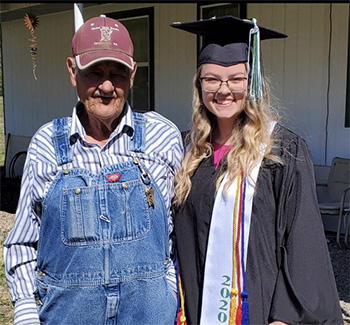 Which class have you enjoyed the most?
I have had two favorite classes at ENMU so far, and those classes are Wildlife Biology and Intro to Media Writing. Wildlife Biology was a favorite of mine because it lies within the realm of what I enjoy learning about, wildlife and conservation. Intro to Media Writing has also been a favorite of mine because I enjoy writing and journalism as a hobby. This class allowed me to be more creative and to express myself through writing.
What is the best part about being a Greyhound?
My favorite part about being a Greyhound is that I am a part of a huge family of supporters. Being a Greyhound means that I will forever have friends and family, no matter the distance or time between each and every one of us.
Which activities have you been involved with outside of the classroom?
I have been involved in the Student Chapter of The Wildlife Society. I worked two jobs in the First Baptist Church in Cloudcroft, New Mexico, and at the Turquoise Shop in Cloudcroft, New Mexico. I will also be joining Dr. Mali's research team this coming summer. I have not had the opportunity to volunteer since I graduated high school in 2020 due to COVID-19. The only opportunity I had was cleaning up trash in the forest for the Cloudcroft Forest Service.
What are your hobbies?
I enjoy reading, writing, art, wood burning, kayaking, hunting, fishing, swimming and riding motorcycles.