Allison Guerrero is majoring in elementary and special education with a minor in bilingual education at Eastern New Mexico University. She dreams of being a second grade teacher and having the opportunity to teach Spanish classes after graduating from ENMU in 2024.
"My ultimate goal in my career is to make an impact in my students' lives to the point where they want to become educators and make a difference in someone's life," she shares.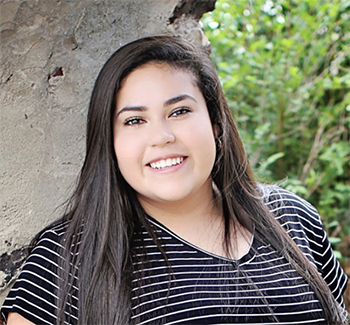 "I chose education because I never wanted to stop learning or growing," she continues. "As an educator, you come in contact with so many people who all bring something special to the table. You learn from them, and they learn from you."
Allison was born and raised in Des Moines, New Mexico, with three older brothers. "Both of my parents originated from Mexico and moved here in the mid-'90s to give their children an opportunity to make a career for themselves," she says.
The recipient of the Carl and Ruby Parker Endowed Scholarship chose to attend ENMU "because of the great Education Program, but mostly because of the size of the campus. It's not too big to where you are constantly getting lost nor too small to where you don't have any space. It feels like home, and I always feel welcomed."
The dean's list honoree's favorite place on campus is "the beautiful Golden Student Success Center. They have everything you could possibly need in one building: access to computers, information for research, Einstein Bros. Bagels and comfortable chairs. I really like how the building makes you feel comfortable to do homework instead of feeling pressure."
While she has "enjoyed every professor I have come in contact with," the two that have made the biggest impact on her life are Dr. Kathleen Wagner, associate professor of secondary education, and Dr. Dhimitraq Duni, assistant professor of mathematics education. Allison explains, "They both have had an influence on me that makes me excited to become an educator."
She continues, "The way they both express themselves as professors and the support they show their students have made me feel comfortable here at ENMU and has given me insight as to what to provide my students with."
Her favorite courses are math classes with Dr. Duni. "The way he teaches allows students to get a different approach to learning math and makes math feel less intimidating and more possible," she says.
Allison offers advice to students interested in pursuing a degree in education: "For those who are wanting to become educators, my advice to you is to surround yourself with mentors or peers who will give you an insight of what to expect in a teaching career. Once you get the opportunity to see what your future has in store, you feel more confident about pursuing that career path.
"Also, know that it is okay to ask for help. During this stage of life, everyone is learning who they want to become, and you might be lost or misguided throughout the journey, but there is always someone here at ENMU to help."