Catherine "Nikki" Cornejo is majoring in early childhood education at Eastern New Mexico University to prepare for a career as a kindergarten teacher.
"I want to be able to enrich the minds of the youth and make a difference and shape the future of the world," she shares. "Teaching is something that has truly inspired me to leave my mark on the world."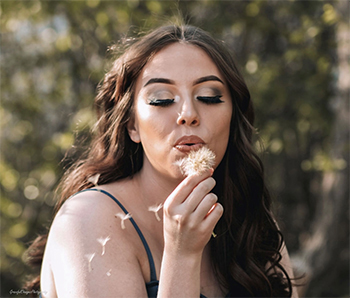 Catherine, who was born and raised in Clovis, New Mexico, chose to attend ENMU because it was "close to home while providing that independent feeling. My mom is my biggest supporter and graduated from ENMU."
She enjoys the "ENMU pride" displayed by members of the Greyhound community.
The senior, who is a recipient of the Greyhound Promise Scholarship, is getting teaching experience at Eastern by serving as a tutor for one of her classes and working in the Teacher Education Office.
Catherine, who previously worked in the Office of Multicultural Affairs as the coordinator of events, says her favorite place on campus is her friend Rukudzo Tambo's office in Multicultural Affairs. "Whenever I need a laugh, I know where to find him," she explains.
The class that has stood out to her the most at ENMU so far was MATH 263 because it "made me enjoy being good in math."
Catherine has been inspired by the teachings of Dr. Dhimitraq Duni, assistant professor of mathematics education at ENMU. "For the first time in all of my years of school, he has made me enjoy math and be successful in something I struggled with prior to previous years," she shares.
She offers advice to students interested in pursuing a degree in education: "I would like to let you know that it is definitely a long and hard journey to get through but so worth the outcome. Nobody can take your education away from you, and it's going to create such a fulfilling career path. It is very stressful at times but take a deep breath and know that you're not alone. It is such an amazing program, and all of the professors are here to see you succeed."
She adds, "If you ever need anyone to talk to, be a friend or just follow on social media, I'm here!"
Catherine's father served in the U.S. Navy and is retired. She is the youngest sibling, with one older brother. She has a 2-year-old son, Landon, who is "is the light of my life. Despite having a kid at a young age, it's a dream to be able to show him that no matter what life throws at you, you can do anything you set your mind to."
Her dreams include traveling the world, visiting many different places, delving into new cultures and having a big family who will "help me grow and change my life even when I get old."
Her hobbies include baking, shopping, going on road trips, visiting amusement parks and hanging out with family and friends. She's always open to making new friends and enjoys meeting new people.