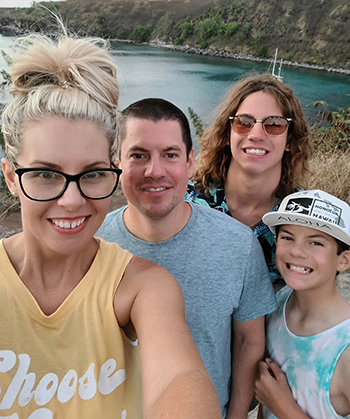 Megan Guaderrama chose to major in social work at Eastern New Mexico University due to her "passion for working with families and children, specifically children with special concerns or an obstacle to overcome."
After earning her bachelor's degree in fall 2022, Megan plans to obtain a master's degree in social work. Her goal is to work in a Birth to Three program or in early childhood development.
Megan is originally from New Mexico. She moved to Lubbock, Texas, 15 years ago. Her husband's name is Erik, and they have two sons, Evan, 17, and Maddox, 11.
She chose to attend ENMU because of the online options. She shares, "I wanted to study social work, but I have a family and I work, so I am unable to attend class in person. At ENMU, a BSW is offered as an online degree program; this works great with my schedule!"
She enjoys life as a Greyhound, especially the opportunity to "meet new people."
Her favorite course at ENMU so far has been Human Behavior in the Social Environment. "For me, it was my first big introduction to social work practice," she explains. "I also enjoyed learning about theories and how to apply them to the real world."
Megan is currently participating in her field practicum at the Buckner Family Hope Center in Lubbock. "Interning at a local agency is a BSW requirement, and it allows me hands-on experience working in my field," she says, adding that she has loved the experience so far.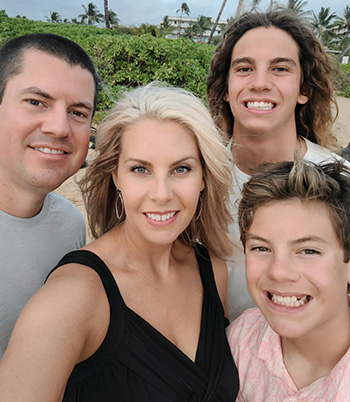 The dean's list honoree also works part-time as a children's ministry assistant for a local church. "I get to spend time working with kids ages six weeks to fifth grade," she shares. "I help with Sunday School services, Parent's Day Out, the nursery program and extra events throughout the year."
The Boyd Jackson Memorial Scholarship recipient's mentor at ENMU is Carolyn Tollett, who serves as Megan's field seminar and field placement instructor. Megan says, "She has been amazing in helping me to get set up and going with my field hours.
"She is very knowledgeable and willing to help in any way she can. I appreciate the time and effort she puts into making sure my field experience is what it should be."
She continues, "All of my social work instructors have been very helpful and welcoming. I take classes strictly online, and even though I am not in class, in-person, they do a great job of making me feel welcome and part of the class."
Her advice to students interested in pursuing a degree in social work is to "make sure that you have a passion for helping people and an open mind."
Megan's hobbies include spending time with family, traveling and photography. She shares, "We try to take at least one trip a year to someplace new. I think it is important for our boys to see new places and experience new things. We enjoy traveling together, and there are always lots of photos!"