Isaac Amo Yeboah has big ambitions: the international student from Ghana plans to lead his home country as president someday. "I have always wanted to be a leader and to make a difference in whatever field I find myself in," says Isaac, who would also like to teach at the college level and become a human resources manager.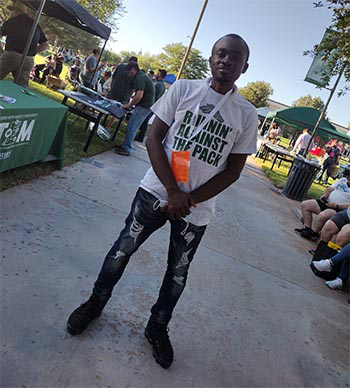 He chose to pursue a master's degree in communication at Eastern New Mexico University due to the low tuition. He felt that this field of study would help him improve upon his skills with interpersonal relationships, communication and leadership. He aspires to be "bold and confident in front of people, to win friends and influence people. I will need these skills in communication to enable me to relate well with employees as a future HR manager and perform better at my job."
He enjoys that ENMU is a "small college where most of the students, teachers and people are friendly. I get to meet new people and make friends all the time."
Dr. Joshua Bramlett, assistant professor of communication, has served as a mentor to Isaac during his time at Eastern. Isaac also enjoyed taking a course with Edward Caffrey, instructor of communication, where he watched several documentaries that broadened his understanding of communication topics.
His favorite places on the ENMU campus are the Golden Student Success Center, gazebo, natatorium, Campus Union and Curry Hall.
Isaac serves as a graduate assistant in the Department of Communication and is a member of the ENMU International Club. He will be giving a presentation in February as part of Eastern's Black History Month programming.
He offers advice to students interested in his field of study: "Communication is the foundation of our relationships with others. It is a good thing it is a core course for many undergraduate students to take. It is an interdisciplinary course so there are so many areas to branch into or specialize in. I recommend the course for anyone interested in human relationships."
The ENMU graduate student has three siblings. His parents' names are Joseph Asuama and Christiana Korsah. Before attending Eastern, Isaac was a teacher in Ghana for three years.
His hobbies include playing soccer, ping pong and lawn tennis, swimming and reading. He dreams of traveling the world and meeting new people.