Ellis Blackstone chose to major in anthropology with an emphasis in archaeology at Eastern New Mexico University because it combines all of her favorite things: "history, travel, people and, most importantly, digging in the dirt."
Ellis hopes to pursue a career in underwater archaeology. She outlines what she would like to accomplish in her career, including "being happy and loving what I do. I would like to contribute to the world's understanding of the past.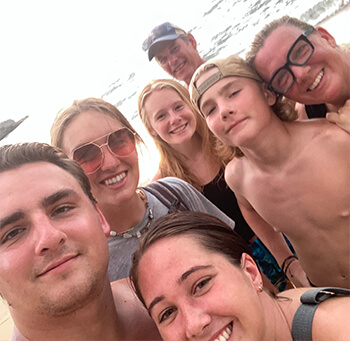 "I am a strong believer in the idea that the past will repeat itself if we do not come to understand it. While this can be good, it can also be bad, and I would like to further our understanding of how to navigate the past, present and future."
Ellis was born in Columbus, Ohio, and raised in Westerville, Ohio. Outside of the academic year, she resides in Westerville with her parents, Bradley and Cathy. She has an older brother, Jackson, 23, a younger sister, Brynn, 18, and a younger brother, Dane, 15.
Her father is an operation manager for the Bath & Body Works home office in Ohio, and her mother is a self-employed photographer. Jackson is a firefighter and paramedic for the Columbus Division of Fire.
Ellis chose to attend ENMU because she "wanted something brand new. For one thing, I had never been to the southwestern part of the United States, and college gave me the opportunity to attend a university in that region.
"I also wanted to meet all new people. While I like familiarity and while I love my friends back home, I was looking to create some new connection – and on that note, in particular, I am very glad I did. I have met some amazing people at this school.
"Lastly, I heard that ENMU had a great Department of Anthropology and Archaeology, and I wanted to see what that was all about," she explains.
Ellis enjoys spending time on campus, especially the area next to the walkway from the main campus to Greyhound Arena, where she watches birds roosting in the trees during her morning walks from the MaxPAC. She shares, "Once the sun hits a certain point in the sky, they all take off simultaneously and fly over to the baseball fields. I adore those birds and the trees they roost in."
Her favorite part of life as a Greyhound is having "access to all of the resources that the school offers.
"From amazing professors to great learning facilities and even free mental/physical health services, I love it all. I have utilized all of the resources the school offers, and none of them have failed me," she says.
Ellis at the Balloon Fiesta in Albuquerque, New Mexico.

The freshman's mentor at Eastern is Leticia Schneider, a first-year experience coordinator with the Advising Center. "She has helped me big time," Ellis explains. "Not so much academically, but as a friend. She made me feel welcome from the get-go.
"She allowed me to feel comfortable on campus and pointed me in the directions in which I needed to be pointed. I am very grateful that she was one of my professors during my first semester at ENMU."
The class that has stood out to Ellis the most so far was Introduction to Archaeology with Dr. Brendan Asher. She shares, "I loved lab days when we would be outside excavating the fake units that Dr. Asher and his TAs constructed for us. It was always a nice break from particularly long days."
The dean's list honoree's advice to students interested in pursuing a degree in anthropology is to "go into the field with a very open mind.
"I was wildly unaware of all of the possibilities that my field of study offers. I have learned a ridiculous amount of information and have considered so many possibilities. Ultimately, it was underwater archaeology which struck me as most fascinating," she says.
The Greyhound works as an assistant in the Office of Multicultural Affairs and tries to attend Gender and Sexuality Alliance (GSA) meetings as often as possible.
Ellis's hobbies include photography, hiking, gardening, watching movies, swimming, reading and writing.
She dreams of traveling the world, explaining, "I want to go everywhere - literally everywhere. It drives me nuts that the world is so big! But it also makes me appreciative that I will never run out of places to go."
Ellis with her family at Christmas.