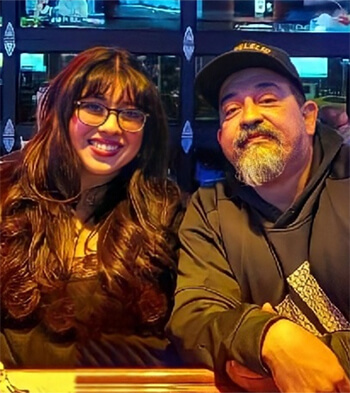 Gabriella Armenta is planning to graduate from Eastern New Mexico University this semester with a bachelor's degree in social studies with an emphasis in history with secondary social studies licensure. She plans to teach high school history and eventually pursue a master's degree in education administration or counseling.
"I also think that museum studies or a higher education path would be an interesting route to consider," she says.
Gabriella has had a lifelong interest in history. She shares, "I have always been a history nerd, and I thought making it into a career was a wonderful idea.
"Originally, I wanted to stick to the museum side of things and work as a curator, but I had an awesome U.S. history teacher in high school that motivated me to pursue the educator route."
The soon-to-be-Greyhound-Grad was born and raised about two hours away from Portales, New Mexico, in Slaton, Texas. Her older brother is Jamie Armenta, a 2019 ENMU alumnus. Her father is a Navy veteran who works for the United States Postal Service as a mail carrier, and her mother is self-employed.
Gabriella chose to attend Eastern because it was "not too close or too far from home. My brother was a student here at the time of my decision, so it was nice to have someone here that I knew."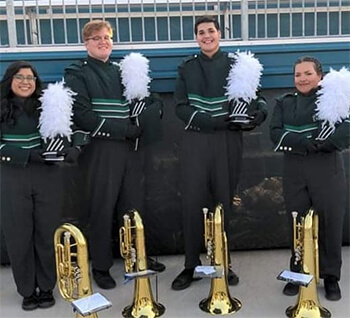 She has enjoyed the small class sizes in comparison to other universities. She explains, "It makes it easier to participate in class and allows for more one-on-one conversations with your professors."
Her mentors at ENMU include Dr. Donald Elder, professor of history, and Dustin Seifert, chair of the Department of Music.
"Dr. Elder is my favorite professor at ENMU, and I know he is always there to listen to me even if I just need to talk," she shares.
"I have always loved being involved in music, and Mr. Seifert really made my experience at ENMU worth staying. I highly recommend participating in ensembles at ENMU even if you aren't very good at music; it's worth the memories."
The class that stood out to her the most was Greece and Rome, the Ancient World, which was taught by Dr. Richard Allington. "I'm mostly interested in military or the World Wars history, so this class was out of my comfort zone," she explains. "However, I really enjoyed this class, and I learned a lot. The material was engaging, and the assignments were challenging but achievable."
Her favorite place to spend time at Eastern is the Golden Student Success Center because of "all the books and memories from hanging out with friends."
Gabriella served as the treasurer of the History Guild of ENMU in fall 2021 before serving as a student-teacher. She worked with ENLACE as a tutor for Portales High School.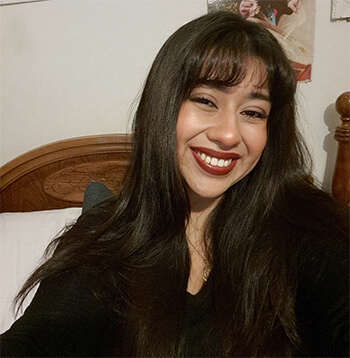 The dean's list honoree and Greyhound Promise Scholarship recipient was a member of the Greyhound Sound Marching Band every fall semester and participated in the Symphonic Band.
She offers advice to students interested in pursuing a degree in social studies: "Complete your readings prior to class and make sure you stay on top of them. I also encourage you to participate in class discussions even if you are shy. It is beneficial to your learning experience to hear your professors' and classmates' feedback."
Gabriella's hobbies include collecting memorabilia and books, specifically from the World Wars, and building military model kits for fun. "I mostly build tanks and airplanes, but I want to start building more ships," she states. "I want to purchase a Messerschmitt Bf 109 kit to build since it is my favorite fighter aircraft."
The senior's dream is to travel to Germany. "I have always been interested in German history and culture, so a trip to Germany is definitely something that I hope to do," she shares. "I have always wanted to visit the Jewish Museum in Berlin, and I want to visit other famous historical sites of World War II around Europe."
Gabriella with her best friend, Gilda.