Shelley Jacob Inge is majoring in music education with an instrumental focus at Eastern New Mexico University thanks to a lifelong love of music.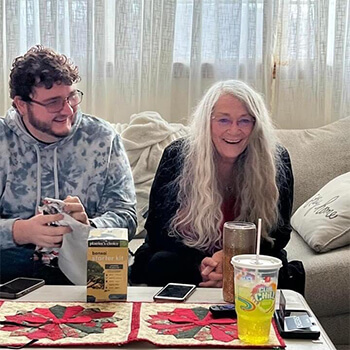 "Music has always been a huge part of my life," he shares. "As a little kid, I spent a lot of time at bluegrass festivals with my grandfather Ray Brown. Being around music as a little kid as much as I was, it became a huge passion of mine.
"In middle school, I knew I wanted to be involved in music but was unsure of what kind of music. There was a preview day of all the music programs at my school, and I heard the band and fell in love."
Shelley chose to attend ENMU because of his childhood journeys, as well. "As a little kid, my grandpa and I would regularly drive from Alamogordo, New Mexico, to Amarillo, Texas, and we would always drive through Portales, New Mexico," he recalls.
He was born in Alamogordo, New Mexico, where he lived until 2017 when he moved to Portales to attend ENMU. His sister Taylor Ash lives in Las Cruces, New Mexico, and his sister Minnie Hayhurst is a digital filmmaking major at Eastern. Shelley has a girlfriend named Alicia Trejo.
Shelley's great grandfather Ray Brown had many careers. He spent the largest part of his career at the test track at White Sands Missile Range. Shelley's grandmother was an accountant at an optometrist's office, but her first priority was being a mother. "She lost her husband while her kids were young, and she had to do it alone. After all her kids were out of the house, she took me in and raised me like I was one of her own," Shelley shares.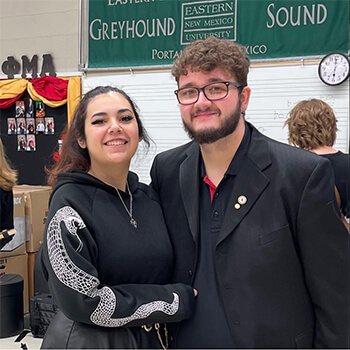 Shelley wants to work as a K-12 music teacher for a small school district, taking charge of the general music program, band program and choir program. "I want to be there for the kids like my band director, Rod Pior, was for me, and help kids find/build their passion for music," he says.
The dean's list honoree hopes to open a fine arts camp in New Mexico that accommodates families with children with special needs.
He explains, "A lot of children with special needs are not given the opportunity for a creative outlet in public schools, so making it accessible for them for even just a week may bring some joy to the children and their families. I want to do this because my cousin, Gage Robert Marshall, has Autism and the joy he gets listening to music is simply beautiful."
Shelley's time at Eastern is preparing him to achieve his goals. He performs in the ENMU Wind Symphony on horn in F, Symphonic Band on bass trombone, Jazz Band on lead trombone, Brass Choir on tuba and the Clarinet Quintet. He has been the section leader for the Greyhound Sound Marching Band mellophone section for several years.
The recipient of a performance-based scholarship from the ENMU Department of Music is serving as a president's ambassador for the ENMU Office of Enrollment Services, a community assistant at San Juan Village and a tutor for music and education classes.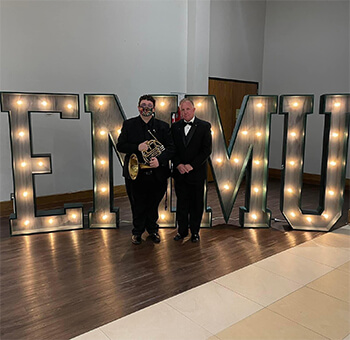 He is a brother of Kappa Kappa Psi National Band Fraternity and a member of the Kappa Delta Pi International Honor Society in Education. He is also an active member of the ENMU Esports team.
Shelley has gained many mentors during his time at Eastern, including the Department of Music's Dustin Seifert, Dr. Mark Dal Porto, Dr. Tracy Carr and Dr. Pamela Shuler, as well as Justin Strawn, an instructor of mathematics.
"All have helped me get through some really low times in my life," Shelley explains. "They have all also inspired me to love learning and helped give me strategies that I will utilize while I am in front of a classroom."
The senior loves spending time in the band room of the Music Building. "The amount of growth that 40 people can make in an hour and a half is amazing," he shares. "I feel at home sitting in the band hall being conducted by Mr. Seifert."
Shelley's favorite classes at Eastern were part of the music theory cycle. He explains, "Learning the math and science behind music is so interesting, and I had two of the best teachers I have ever had in those classes [Dr. Pamela Shuler and Dr. Dal Porto]."
A studio picture with Shelley's primary instrument, the tuba.