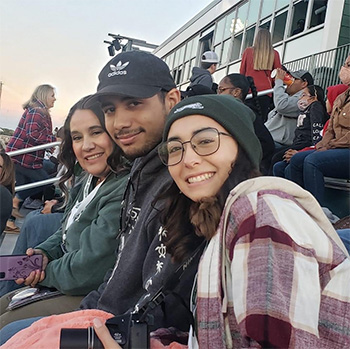 Alexis Autumn Romero, who is majoring in digital filmmaking with a minor in English at Eastern New Mexico University, hopes to one day be at the creative helm of films created in New Mexico.
"I plan to stay in New Mexico where I can capture the authenticity and rich culture that Northern New Mexico has and hopefully get to work on sets that are filming big movies and tv shows," she shares.
She has "always been inspired to be a part of film sets, whether I'm acting or helping behind the camera; it has always been a very strong passion of mine."
Her passion for English was sparked by a love for books and a confidence in her ability to write on anything she sets out to cover or create. She'd like to use her minor in English to teach high school or middle school English.
Alexis was born and raised in Abiquiu, New Mexico. Her "amazing and supportive" parents work at Los Alamos National Laboratory. Alexis has one older sister who was born with down syndrome, and a younger brother who is attending his first year of college at the New Mexico Institute of Mining and Technology in Socorro, New Mexico.
She chose to attend Eastern because of the "small, welcoming community that the University has to offer to its students. I also decided to attend Eastern because of the class ratio. With the classes being so much smaller, I was able to feel safe and comfortable to be able to ask questions and talk to my professors when needed.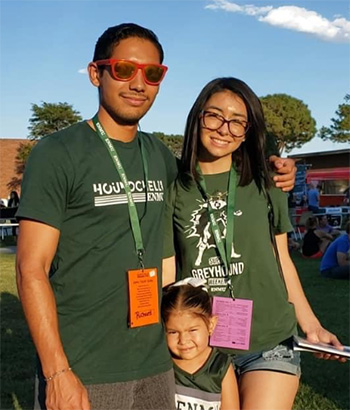 "It was close enough to home so that I could still be able to go visit my family for holidays and breaks," she adds.
She enjoys how "proud everyone on campus is to be a Greyhound, from basketball games to game nights to events that take place. Each person, including myself, represents themselves as a Greyhound here at Eastern very well, making it a proud thing to call myself a Greyhound."
Alexis has been a part of a few student films with her fellow classmates, as well as being a member of the Chi Omega Women's Fraternity and serving as a student worker in the Advising Center.
Her mentors at ENMU include all of the professors in her major's department. "Jon Barr, who is also my advisor, has helped me and been my professor in many of my digital film classes," she says.
Her favorite class at Eastern so far was Beginning Acting with Dr. Anne Beck. "The class was a great way to make friends and get close with everyone while acting out scenes and doing lots of icebreakers," Alexis states. "My favorite part of the class was being able to rehearse and perform all of the types of acting that we learned from the class and perform it as a freshman showcase to family and friends at the University."
Alexis's go-to place at ENMU is the Golden Student Success Center, sharing, "I always find it very relaxing and quiet and helps me feel accomplished when I'm working on homework with friends. I also love that you can grab a coffee at Einstein Bros. Bagels."
She also enjoys the Campus Union. "You always see different people there, and there are always activities going on, which is a great way to relax and enjoy time after a long day," she explains.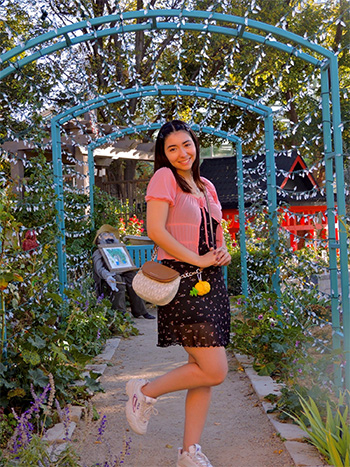 The dean's list honoree is a recipient of the New Mexico Legislative Lottery Scholarship, the New Mexico Opportunity Scholarship, the Reid Isler Memorial Scholarship for 2020-21, a grant from the Department of Theatre and Digital Filmmaking for 2019-20 and federal work study for 2021-22.
Her advice to students interested in her field of study is to "be sure that this major is something you are very passionate about. The Department of Theatre and Digital Filmmaking has so many options for you to participate in; if you can, take advantage of it.
"Join every kind of club, be involved in every play or musical the department has, and talk to fellow classmates to offer a helping hand in a film they may be creating."
Alexis's hobbies include watching movies, painting, listening to music, going to the gym, cooking and baking and spending time with her friends.
Her dream is to travel the world, specifically Europe, Asia and the entire United States. "Traveling to see museums and try all the different types of food and experience the culture is something I have always dreamed of doing," she says.
Alexis with her family when she graduated from high school in 2019. L-R: Santiago Romero, Faith Romero, Alexis Romero, Melissa Romero, James Romero.