Marisa Armijo, a criminal justice major with a minor in wildlife and fisheries sciences and a secondary major in agricultural studies, wants to become a conservation officer after graduating from Eastern New Mexico University in spring 2023.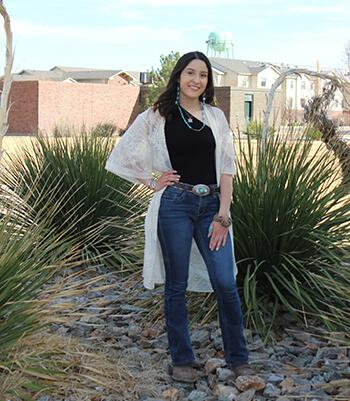 Marisa has been planning for this career path since childhood. She spent a lot of time doing outdoor activities, where her passion for nature flourished. Her family has a background in law enforcement and the military, which drew her into the field.
"When it came to choosing my degree plan, criminal justice, wildlife and fisheries sciences and agricultural sciences go hand in hand, which is best for my education and career path," she says. "Being able to have a career of conserving and protecting the environment has always been one of my biggest aspirations and will soon be happening."
The road to being a conservation officer is an arduous process, but Marisa is up to the challenge.
She plans to go through entrance exams for the Law Enforcement Academy after her Greyhound graduation. Her time in the Academy will take 16 weeks, and Fish and Game School will take an additional four weeks.
She'll then be a new recruit and have an assigned training officer for approximately one year, with duties ranging from checking anglers, flying big game surveys and riding horseback into a wilderness area to trap bighorn sheep.
After this, she'll be assigned to a district in New Mexico and hopes to one day become a lieutenant or sergeant.
"What I hope to achieve and gain from this career is new skills and opportunities where I have fulfilled all my moments within this career and most of all leaving with happiness," says the senior.
Marisa was born in Las Vegas, New Mexico, and raised in a rural area in New Mexico named Ribera.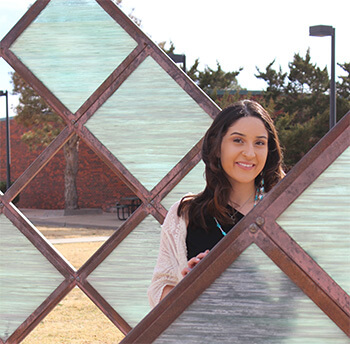 Her father Michael was a state fire marshal officer for several years before becoming a fire safety administrator for the New Mexico State Penitentiary. He is now retired.
Her mother, Beverly, worked with San Miguel Electric Company for many years.
Marisa has one older brother, Michael. Three years ago, Marisa became an aunt to an "amazing and energized nephew."
Marisa chose to attend Eastern because of the affordability and "small and friendly environment.
"ENMU has so much to offer for students like myself, and this experience is going to take me far in the future," she explains. "I really enjoy the small classroom experience because it allows me to make connections with other students along with the professors. It is also not far from home so at any time I feel like it I can take a day trip".
She enjoys attending Eastern because she feels it is "the right place for any student with a wide range of backgrounds. It's a place I get to call home while earning my degree. Many students and staff I consider like family with always being there for one another, which makes me proud to call myself a Greyhound. Being the small campus environment, each person takes pride in what they have to offer and are always there with a helping hand"
Marisa is very involved in campus activities. The dean's list honoree is a recipient of The New Mexico Legislative Lottery Scholarship, the New Mexico Opportunity Scholarship, a member of the Rho Lambda Greek Honor Society, Order of Omega Greek Honor Society, a Silver Scholar in Greek Life as a member of the Chi Omega Women's Fraternity (where she has held the positions of vice president, Foundation Ambassador and Sisterhood director), a member of the Wildlife and Fisheries Club (where she held the position of treasurer) and a Safe Ride driver.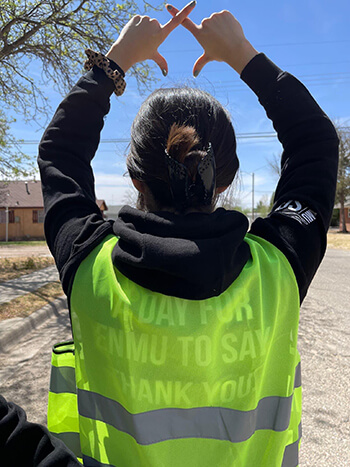 She has volunteered for several organizations, including San Miguel Del Vado Church, the New Mexico Department of Game and Fish and Pecos National Historical Park, and has participated in Eastern in Action, an annual volunteer event where ENMU students help the local community.
She holds a work-study job as an assistant receptionist in the Office of the President.
Marisa has been inspired by her professors, especially Omar Camarillo, an assistant professor of criminal justice, and has enjoyed the classes she's taken at ENMU. She shares, "My favorite class has been my homicide course because students got to evaluate case scenarios that could be applied to cases in the future."
The Greyhound likes spending time in the Golden Student Success Center. "It gives students a wide range of resources and helps me succeed within my academics. The time I spend there is mostly spent in the study rooms where I always feel accomplished when I leave. My favorite part of the GSSC is when they host long night against procrastination during dead week because of the events they have to offer to students during the long week" she explains.
She also enjoys the Campus Union. "When I go there, I always see people I know and have the opportunities to meet new people," she says.
Her advice to students looking to pursue a similar academic path is to "cope with failure and learn from mistakes because everything that's done isn't going to be perfect. When times get rough, that doesn't mean give up; just push harder, and eventually, you will get through it". When applying for careers be sure it is going to be something you're going to love instead of going into everyday not enjoying the job because this is a career you will be doing for nearly the rest of your life.
"Lastly, enjoy your time as a student because before you know it, you will be graduating and starting your life with your full-time career."
Marisa's hobbies include hunting, fishing, camping, hiking, reading and cooking.
Her dream is to "take the opportunity to enjoy life as much as possible and travel the world because this life is too short".