Kayleigh Tolley is majoring in history at Eastern New Mexico University with dreams of one day teaching the subject at a collegiate level.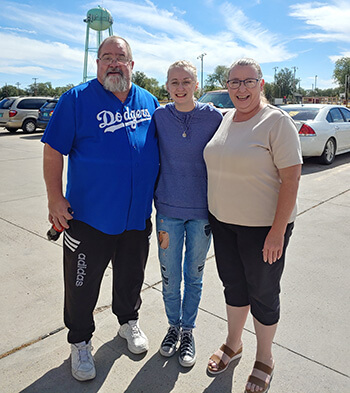 "I have always been interested in history, and my history teachers throughout school were always my favorite people," shares Kayleigh when asked why she chose to pursue that field of study.
Kayleigh was born in Raleigh, North Carolina, and raised in Albuquerque and Rio Rancho, which are both located in New Mexico. She has an older sister, Savannah, who graduated from ENMU in 2020, and a younger brother named Ethan. Her parents are both high school English teachers.
She was inspired to attend Eastern because her father and sister attended and loved their experiences at the University. Kayleigh fell in love with the campus when her sister toured ENMU in 2018. She was also drawn in by the History Program.
Kayleigh is a non-traditional student. "I was in college before COVID-19 but dropped out for the second time when the pandemic came around," she explains. "I took a year-and-a-half break and decided to come back when I was ready.
"I like sharing my story because then other people may have gone through it too, and I don't feel so alone, and other students know that it's okay to wait and come back when they feel ready."
The Office of Campus Life student employee has several mentors at ENMU, including Rey Coss, director of the Campus Life, Dr. Donald Elder, professor of history, and Dr. Maria Duarte, assistant professor of history.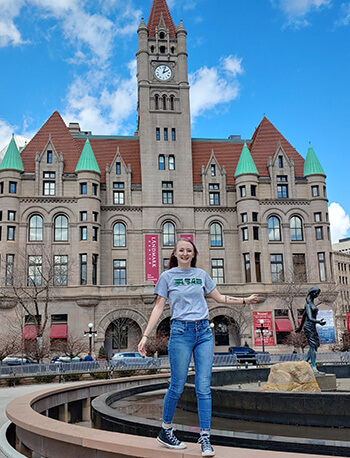 She advises students interested in her field of study to "talk to your professors! Build relationships with them because you will be seeing them a lot throughout your time here. Also, figure out your favorite events or era in history quickly if you haven't yet because everybody will ask you, including professors in class."
The Associated Students Activities Board (ASAB) coordinator enjoys spending time in the Campus Union (CUB), partially because she works there but also because "there is always something going on and there is good energy in the building. I also like sitting out in the grass around campus when it's nice out between classes."
Her favorite aspect of life as a Greyhound is "the community! Especially since joining Campus Life and ASAB, it's so awesome to be able to walk around and know people."
She adds, "In each major, you'll find people that know everyone else in their major, and they tell each other everything about classes and professors and are able to prepare each other for the future. Usually, you'll go through all of your classes in your major with the same people."
The dean's list honoree's favorite courses at ENMU so far are anything related to history and reaching education.
"Even though I am not going on the teacher ed route anymore, those classes are usually small enough that it is easy to get to know your classmates and your professors, so it becomes a fun class, especially when we have debates," she explains. "The same thing goes for the history classes. The professors always encourage class participation and input on the lectures at a reasonable level, so it's nice to see other people's points of view."
Kayleigh's hobbies include attending on-campus events, reading, drawing and calligraphy.
Kayliegh with her friends Payton, Olivia and Lawrence at ENMU's ASAB sponsored prom in April.