Addyson Aragon is majoring in early childhood education with PreK-Grade 3 licensure at Eastern New Mexico University with the dream to become a first-grade teacher for a public school in either New Mexico or Texas.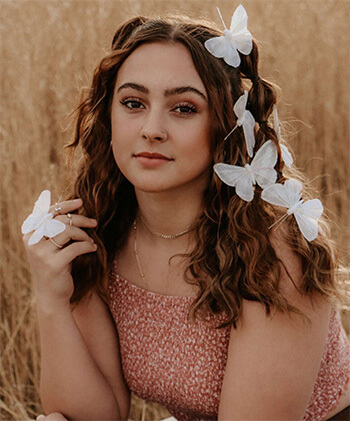 "I chose this field of study because there is a great need for educators in our state and around our nation," Addyson explains. "I have always loved children, and I love to see them learning, creating and experiencing life for themselves."
She continues, "What sealed the deal for me in this field was my first observation experience in the spring of 2021. This was my first time in a classroom, and I fell in love with teaching at that point."
"I would like to inspire young students the way that my teachers throughout my years in school have inspired me," says the Greyhound Promise Scholarship recipient.
Some of those inspirational teachers are from her time at Eastern. She shares, "I have had an overwhelming amount of support from professors, peers, faculty and staff. A few people that I have looked toward as mentors are Dr. Tsitsi Nyabando, assistant professor of early childhood education, Dr. Kathie Good, professor of special education, Reydecel Coss, director of Campus Life, and Sarah Kinlund, my VP3 advisor for Zeta Tau Alpha."
The senior, who plans to graduate in spring 2023, has worked in the Office of Campus Life and served as a Safe Ride driver since the fall of 2021. She is a member of the Spirit Squad and Zeta Tau Alpha, a women's fraternity where she holds the leadership role of VP3 membership and recruitment. She is also a 2022 Dawg Days coordinator.
Addyson, a recipient of the New Mexico Legislative Lottery Scholarship, a freshman academic scholarship and Spirit Squad scholarships, was on the dean's list for the fall 2020, spring 2021 and fall 2021 semesters.
The Greyhound was born in Fort Campbell, Tennessee, and raised in Farmington, New Mexico. Her mother, Telishe Aragon, is a registered nurse and is pursuing a master's degree. Addyson's father, Kenneth Aragon, is a shift supervisor for Arizona Power Company. She has two siblings, Kade, 13, and Kendrick Aragon, 16.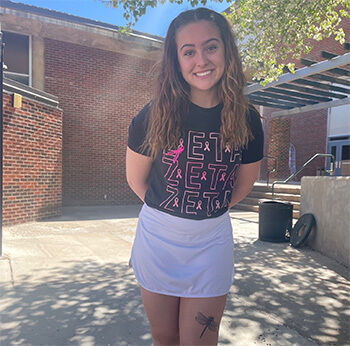 Addyson chose to attend ENMU because of the scholarship opportunities and decided to stay because of the "amazing community in Portales, New Mexico."
Her favorite part of being a Greyhound is how "at home" she feels at Eastern. She explains, "I am six hours from home, but ENMU has a community of supportive and motivating faculty, staff, and educators who are all pushing me to succeed!"
Addyson spends most of her time in the Campus Union, where the Office of Campus Life is located. "I have made so many great connections and friendships there with my coworkers," she shares.
The courses that have stood out to her the most so far were the math classes she took with Dr. Dhimitraq Duni during her first two semesters at Eastern, MATH 261: Math for Teaching Grades PreK-2 and Elementary Mathematical Concepts II.
She offers advice to students interested in pursuing her field of study: "Always remember why you are here! Many people come to college and lose sight of the reason why we are here, and that is for higher education. Stay focused on your goals but don't forget to have a little fun every now and then!
"Also, I advise you to get involved whether you chose education as a career path or not. Getting involved on campus makes college so much easier and more fun!"
Addyson's biggest dream since being a young girl is to be a teacher, mother and wife. She explains, "I have always looked up to my mother, and the way she has inspired me to be a good person who is kind and loving.
"She has always been my biggest supporter and encouraged me to do my best in anything I do. She works very hard, and she is one of my biggest inspirations. I have always dreamed of being just like her."
Addyson's hobbies include working out, singing, dancing and spending time with her friends.