Suzanne Perez was crowned Miss New Mexico on June 5, 2022, and she is competing in the Miss USA Pageant in October of this year. Suzanne is a Master's student in the Speech and Language Pathology program at ENMU.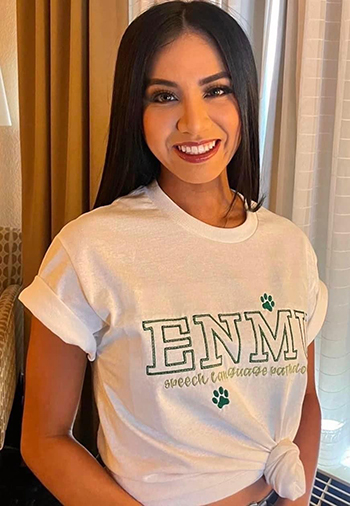 Suzanne is passionate about helping others. Her pageant platform is "advocating for disability rights and disability awareness." Suzanne wanted a career where she could help people.
Her goal is to open a private practice clinic with physical therapists, occupational therapists, and speech and language pathologists. Pediatrics is where her heart lies currently, but she is open to where the future leads. She hopes to graduate in early 2024.
She thinks communication is a human right, and she wants to work with people to develop their communication skills, whether they are facing difficulties due to disabilities or as a result of illness.
The Spring 2022 semester was her first semester in the masters of speech and language pathology program, but ENMU has already left a mark on Suzanne. She spent some time on campus in her first semester and lived in San Juan Village.
Suzanne's favorite spot at ENMU has to be the gym in San Juan. Suzanne struggled with neuroanatomy as an undergraduate, but it became her favorite class at ENMU, challenging her and expanding her mind.
When asked why she chose to attend ENMU, Suzanne said, "I wanted a program that had hands on experience, and I did a lot of research into the SLP program." She explained that she likes the small campus community and is particularly grateful to Dr. Swift for her accessibility and responsiveness. "I hear so many horror stories about other programs, and knowing that I have an advisor who listens to me and answers my emails is important."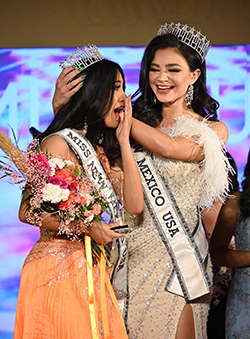 Being a part of a diverse community is a perfect fit for Suzanne. When she arrived in New Mexico, she connected with the Filipino American Association in New Mexico. Suzanne explained, "My mom and dad are Filipino. I was raised in America, but I can speak Tagalog [the language of the Philippines] and I can speak our dialect, Bisaya." She explained that she likes a tighter community of people that talk to each other and communicate.
Knowing the language and understanding the Filipino culture has helped her as a volunteer for Chosen Children Foundation.
She was able to speak on the senate floor of the Philippines and advocate for disability rights. "Even though it is a pageant stereotype, I really am passionate about helping people with disabilities."
When she first started competing, Suzanne explained that she was very shy. "Being in pageants helped propel me into finding a passion and made me really look at ways I could help people."
Suzanne said that being a speech language pathologist is not for everyone, but she is excited to help and empower people through her work in this field.
"Ever since I started competing, Miss USA has always been my number one dream. I thought it was impossible for years, and now that it is coming true, Miss Universe is my dream."
Achieving that dream has become Suzanne's hobby. Next semester, you might spot the Miss USA competitor working out at San Juan's gym. Cooking and eating healthily and working out have become her hobbies.
When schoolwork and the pageant schedule are slower, Suzanne enjoys hanging out with her cat, Jace.