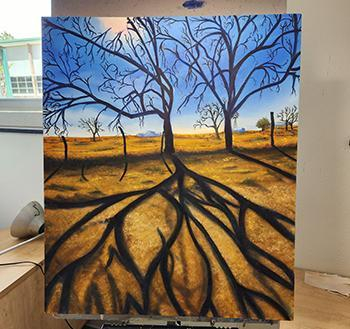 Jessica Barron is from Elida, New Mexico and is used to the community of a small town. She is double majoring in Culinary Arts and Fine Arts at Eastern New Mexico University. She was drawn to ENMU because of the size of the campus as well being close to home. Jessica loves being creative and is passionate about both of her majors; "It's the best of both worlds" Jessica commented. She has been on the dean's list every semester she's been in college and once she graduates in December of 2024, Jessica plans on going to graduate school to get her masters in art to teach at the college level, "I want to teach art to people who are actually interested in it."
Eastern was Jessica's top pick for college because of how affordable it was, and the small class sizes was another huge draw to Eastern, "I like that you can get to know your professors." One of her favorite professors is Greg Senn a professor of Art, "He has been a really great mentor." Jessica enjoys that there is a wide variety of people at Eastern, and being able to meet them and become friends with them is one of her favorite parts about being a Greyhound. Jessica's majors are focused on what she enjoys outside of the classroom, her passion for art and cooking are both things she enjoys doing in everyday life. Jessica is in ENMU's Environmental Science Club and Clayhounds, Eastern's ceramic club.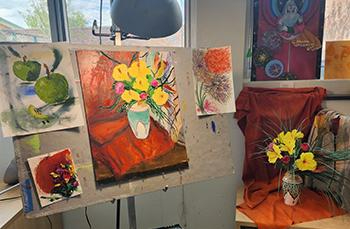 Jessica's goal in life is to work hard and "don't give up" — college can be a really stressful time but it is also so much fun. Jessica want's students who are thinking about coming to college to, "not be too hard on yourself! Take the breaks but understand that you have to work hard to get where you want to be in life." Eastern New Mexico University is a great place to learn how to work hard and take the necessary breaks that college students need. Eastern also has tons of understanding professors who encourage open communication. While Jessica has been at ENMU she has had the support of her professors and friends to help get her through her college career.