Adrian Coss is a student attending Eastern New Mexico University, he is majoring in university studies with concentrations in culinary arts and agriculture sciences. Adrian has been attending ENMU since the fall of 2020 and will be graduating in the spring of 2024. Adrian has loved exploring what he wants to major in here at ENMU. Adrian enjoys hands-on learning and gravitated towards culinary arts. Adrian loves being in the culinary program, and stated, "You end up building relationships with everybody in the culinary building and it's a really cool family." Outside of the classroom, Adrian is a member of the Kappa Sigma Fraternity here at ENMU. "I know I can depend on them when I'm feeling low and they know they can depend on me," Adrian commented.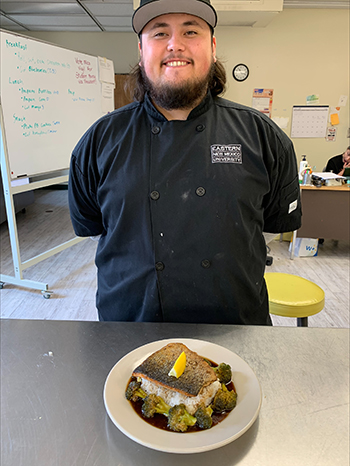 Adrian was born in Hobbs, New Mexico, and lived there until the end of eighth grade. He then relocated to Beaumont, California to live with his mother. When Adrian graduated from high school he was inspired by his brother, Rey Coss, to attend Eastern. Rey is the Director of Campus Life at ENMU. Adrian enjoys the small community in Portales, New Mexico.
"I feel like everybody here is willing to help each other because we are such a small school," Adrian explained. "You really can't get that connection in a bigger school," he remarked. Adrian is especially appreciative of the culinary arts community, "Everybody in the culinary department has a great bond, everybody knows each other, and we all get along great." Adrian has felt considerable support from the culinary arts professors and other students. He enjoys the hands-on feedback that he is able to get from his professors.
After Adrian graduates, he would like to open up a food truck in California full of the recipes that he has perfected during his time at Eastern. When Adrian joined the culinary program, it made him fall in love with school again, "I didn't enjoy school, but I love it now and I have so much fun." ENMU allowed him to find the major that was right for him and he had the support he needed to keep going and learning. Adrian has found a place, major, and community that supports him and encourages his growth.