Sajan KC is currently attending Eastern New Mexico University as a graduate student, studying to receive his Master of Science in Biology. Sajan's main goal is to become an entomologist, more specifically, he wants to become a lepidopterist, a scientist who studies butterflies. Sajan received his undergraduate degree from Tribhuvan University in Kirtipur, Nepal. Sajan is from Nepal and was drawn to ENMU because of the biology department. Sajan made the decision to move 8,080 miles away from his home to follow his passion for entomology.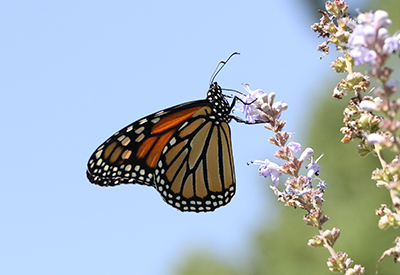 Sajan was inspired to become a lepidopterist while growing up in a family-owned orange orchard in Nepal. "I want to go everywhere and study butterflies," he said. "A lot of species are declining because of climate change, so we need to protect them… and in order to do that we have to study them."
During his time at Eastern Sajan received a grant from the Entomological Society of America (ESA). The grant was for $1,500, which has allowed him to travel to Puerto Rico to research the different species of butterflies there. "I am going to be able to study the butterfly diversity in Puerto Rico," KC said. He plans on taking the trip in December after his graduation. Sajan plans on staying in Puerto Rico for a month and is planning on using this trip as a part of his Ph.D. dissertation.
Outside of school, Sajan enjoys going to Oasis state park to look for butterflies. Sajan also enjoys playing music, singing and writing short stories. He is extremely passionate about the study and research of butterflies. ENMU has given him a place to explore his passion on the subject with the help of Dr. Cradock and Dr. Pollock, two entomologists in the ENMU biology department. KC is looking forward to graduation in December and being granted the opportunity to travel to Puerto Rico and learn more about what he loves; butterflies.
Cydno Longwing (Heliconius cydno) from Panama photographed by Sajan KC