Working with worldwide authorities, including Eastern New Mexico University faculty members, Dr. Michael Shaughnessy, professor of education, has edited a new book titled "The Humanities: Past, Present and Future."
It is a follow-up to an earlier book he edited titled "The Humanities in 2015: Why We Need Them and How They Contribute to Being Human," available here.
ENMU faculty contributing were Dr. Anne Beck, professor of theatre, Dr. Donald Elder III, professor of history, Mr. Greg Erf, professor of art, Ms. Geni Flores, instructor of bilingual education, Ms. Opal Greer, instructor of English and director of the University Writing Program, Dr. Jennifer Laubenthal, associate professor of music, and Dr. Wally Thompson, assistant professor of reading.
Dr. Shaughnessy says he was initially taken aback by the publisher's request for a follow-up book, and "can only surmise that there must have been some response to the 2015 book to bring about a request for a more comprehensive book, looking at the humanities from a past, present and future perspective."
He says there are many scholars, writers and researchers across the United States who value and cherish the humanities - a broad term which includes music, art, dance, theatre, history, architecture, religion and many other realms.
"There are those who believe that discussions about the humanities and theatre and art and music are a very integral part of being human," Dr. Shaughnessy said. "They believe in the importance of human interaction, the Socratic Dialog, debate, discussion and the examination and exploration of human ideas and ideals."
A number of scholars from across the world, including Will Fitzhugh of the Concord Review, Paul Horton of the University of Chicago and other scholars working in conjunction with the ENMU faculty "rose to the challenge of writing about their area of expertise, some with a specific focus and others with a more global, general perspective. We truly have a cross-cultural perspective with the contributions of Kevin Donnelly of Australia and Gerald Cupchik of Canada," Dr. Shaughnessy said.
Different authors from different disciplines all contribute to the humanities in their own unique way, according to Dr. Shaughnessy.
Cupchik, a leading scholar in Canada and the world, examined and explored the realm of emotions and aesthetics. He integrates technology into the study of art and the aesthetics and human emotions.
Herbert London provided his perspective on delving into the future of the humanities, "as there are many scholars who remain deeply concerned about the humanities and the need to have them remain part of the general education curriculum."
Dr. Shaughnessy says it is "imperative for college students to have some exposure to music as Dr. Laubenthal and her colleagues Jonathan Helmick and Kathleen Melago have written about.
"The college experience should expose students to a wide variety of musical forms and, hopefully, give them a lifelong appreciation for music in all its myriad forms," Dr. Shaughnessy said.
"Greg Erf examined art appreciation from a quite singular perspective - that being the search for beauty. Just as some see a landscape as beauty, a piece of sculpture as beauty, others see other modalities as holding beauty, because as the saying goes, beauty is in the eye of the beholder."
Dr. Thomson worked with Debra Coffey to look at literacy instruction and literacy from a vast panoramic perspective in terms of the past, present and future.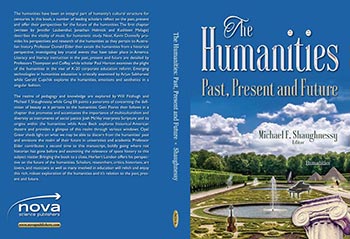 According to Dr. Shaughnessy, Dr. Beck looked at "The American Historical Theatre" and wrote about it from a critical perspective. Ms. Flores asked the singular question, "Can the humanities become an instrument for social justice?" and Ms. Greer provided a past, present and, hopefully, optimistic view of the humanities from a writing and university perspective.
Dr. Elder wrote about space history as part of the humanities. "In a sense, he ventured into fields that 'no one has gone before' - stealing a line from Star Trek," Dr. Shaughnessy said. "But, in all reality, some of us have grown up watching Neil Armstrong walk on the moon and have seen space exploration as part of our growth and maturity. So, Dr. Elder brings a keen, robust perspective to this realm."
Dr. Shaughnessy says the purpose of the book is to delve deeper into the humanities, which some see as an ever-changing field.
"I was fortunate enough to get Dr. Kevin Donnelly of Australia to contribute a chapter examining and exploring the humanities in Australia, thus lending quite a cross-cultural perspective on the humanities and certainly a different point of view," Dr. Shaughnessy said.
"We have ventured into disparate realms of the humanities with a chapter by Josh McVey on 'The Interpretation of Scripture: A Humanities Study of the Development of the Biblical Hermeneutic.' Some scholars would say that religion should be separate from the humanities and the Old and New Testament are basically literature forms. But religion is such a pervasive part of our past history that many feel it should be incorporated into a comprehensive study of the humanities."
According to Dr. Shaughnessy, Arjun Sabharwal has further examined the role of technology in humanities education. As more and more courses become available online, scholars and teachers should utilize more realms of technology to amass data and to provide a means for students and teachers to utilize the technological advances.
"In a sense, the book is an attempt to take a long hard look at the humanities and try to determine where the humanities are going, as a field, and what challenges they face," said Dr. Shaughnessy.
"While not every student may want to learn about art appreciation, or music appreciation or theatre appreciation, it is incumbent upon the university to attempt to engage students in these realms and to develop a thirst and hunger for a deeper, richer, more robust appreciation of these domains, and to possibly enlighten them to the vast fullness of the human experience in other realms - such as religion, architecture, museum study and philosophy - as well as other more straightforward realms such as Western Civilization and American History. In all, it encompasses economic, political, geographical and other realms."
According to Dr. Shaughnessy, different authors from different disciplines contribute to the humanities in their own unique ways.
He hopes college instructors will use both of these texts as source and reference materials. He says certain books and their importance spread by word of mouth. Someone finds a book in a library or at a conference or convention and via e-mail or Skype, they discuss it with colleagues or recommend it to others. Some readers may procure it via e-mail in that format or paperback.
"Basically, many feel that the college experience should include a substantial dose of the humanities," Dr. Shaughnessy said. "We don't know exactly how much literature a high school graduate gets, and we are unaware how much musical knowledge and exposure to music they get during high school and we are unsure if that high school graduate has ever seen a real live play, performed by professional actors.
"College should be a time of opportunity where a student can attend a symphony, a world-class play and be exposed to a wide variety of art forms and literature. Embedded in this is a true study of multiculturalism and diversity and an appreciation of the humanities past and present.
"The humanities are a connection to the university experience," Dr. Shaughnessy said.
"The Humanities: Past, Present and Future" has been selected to be featured at the Guadalajara International Book Fair in Jalisco, Mexico from Nov. 25-30.
The book should be available online shortly at NOVA Science Publishers.
For more information, contact Dr. Shaughnessy at This email address is being protected from spambots. You need JavaScript enabled to view it..
TABLE OF CONTENTS
Introduction - Michael F. Shaughnessy
Music Appreciation as Part of the Humanities Past, Present, Future--Jennifer Laubenthal , Jonathan Helmick and Kathleen Melago
The Humanities in Australia- Past, Present and Future--Kevin Donnelly
To Heroically Save or Despairingly Lose: The Struggle to Interpret American History in the Twenty-first Century vis a vis the Humanities–Donald Elder III
Literacy Instruction in the Past, Present, and Future--Wally Thompson and Debra Coffey
The Humanities in the Vise of K-20 Corporate Education Reform-Paul Horton
Emerging Technologies in Humanities Education--Arjun Sabharwal
An Interview with Gerald Cupchik: Humanities, Emotions and Aesthetics--Gerald Cupchik and Michael F. Shaughnessy
Pedagogy vs. Knowledge: Anti-Intellectualism in American Education in light of the Humanities – Will Fitzhugh and Michael F. Shaughnessy
The Humanities-The Search for Beauty- Past, Present and Future--Michael F. Shaughnessy and Greg Erf
Multiculturalism vs. Diversity: Can the humanities become an instrument for Social Justice?--Geni Flores
The Interpretation of Scripture: A Humanities Study of the Development of the Biblical Hermeneutic--Josh Mc Vey
The American Historical Theatre and a Glimpse Through Various Windows--Anne Beck
A humanities carol: What we can learn from humanities' past about the future of the university--Opal Greer
These are the Real Voyages: Space History as a part of the Humanities- Donald Elder III
The Future of The Humanities-Herbert London