Jessica Sanders, the 2019 New Mexico Teacher of the Year, visited Eastern New Mexico University from Aug. 29-30. The trip was sponsored by Educators Rising ENMU, Educators Rising Portales High School and the Title V Grant.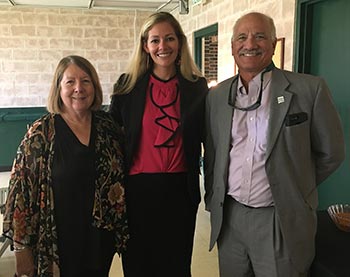 Mrs. Sanders has been teaching for 12 years. She is currently an instructional coach in Rio Rancho and serves as president-elect of the New Mexico Science Teachers Association.
On Aug, 29, Mrs. Sanders participated in a Q&A with teacher candidates at Portales Junior High School, then went to ENMU to co-teach a class with Dr. Kathleen Wagner, associate professor of secondary education and assistant dean of the College of Education and Technology, had lunch with faculty and teacher candidates, did a KENW-FM interview and gave a general session presentation in the Golden Student Success Center. She had dinner with Kappa Delta Pi and Voices teacher candidates at Juanito's in Portales.
On Aug. 30, Mrs. Sanders spoke to seniors enrolled in the "Educator Cadet" class at Portales High School and visited Clovis Community College.
Dr. Wagner and Marisa Luna, a mathematics for secondary education major serving as the president of ENMU Educators Rising, shared their thoughts on the event.
Dr. Kathleen Wagner
What did it mean to you and your students to have the New Mexico Teacher of the Year visit ENMU?
Having Mrs. Sanders visit our teacher candidates was an exciting event. She spoke about the joys and challenges of the teaching profession, which encouraged teacher candidates and faculty alike. Her energy and positivity were contagious. Mrs. Sanders presented to Dr. Jayson Evaniuck's and my class at the Professional Development Site at Portales Junior High School. Her presentations on campus were well-attended and motivated participants. Marisa Luna, Educators Rising president, and Jacob Salgado, treasurer, were able to attend the sessions throughout the day and were inspired by Mrs. Sanders. She was a blessing to all.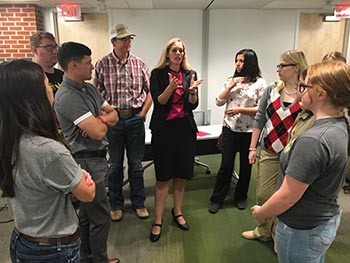 Describe your experience co-teaching a class with Mrs. Sanders.
Co-teaching with Mrs. Sanders was enjoyable! I presented learning theory, and she provided practical application and shared her wisdom with my students.
How did you prepare?
Honestly, we simply prepared on our drive to campus from Portales Junior High School. Have you ever had the opportunity to listen to professional musicians in an impromptu jam session? This was much of the same. We blended our expertise to create a lesson with a melodic tune.
Are there plans for future events or presentations similar to this one?
Our next Educators Rising event plans to host Educators Rising high school chapters on campus. The Educators Rising ENMU collegiate chapter will serve as mentors for area high school students as they prepare for state competitions in February.
What else would you like to share about the visit?
Mrs. Sanders was especially impressed with the lab facilities in our Science Department. The tour hosted by Drs. Barlow and Cradock was one of her highlights because she is very involved in science education in New Mexico.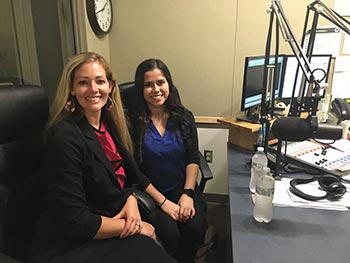 Marisa Luna
Describe your experience meeting with Mrs. Sanders and attending the presentation and events.
Meeting with Mrs. Sanders was a great experience! She was outgoing, positive and an inspirational person. She makes a great name for all teachers and represents our state so well! She was excited to answer my questions and give me some advice based on personal experience in the classroom. Being able to show her around the campus for the day and to hear her speak and watch how she holds herself was awesome. She was a great role model for students who are interested in a career in education.
How did the lessons you learned from Mrs. Sanders' visit prepare you for your future career?
Mrs. Sanders's visit added some more fuel to the flame that is my desire to become a teacher. She was so positive and real about things that happen in the classroom, as well. It was not sugar-coated or all just pretty, and she offered tips on how she handled difficult situations. I am looking to pursue a career as a high school math teacher. Mrs. Sanders was a middle school science teacher, and she talked about the students that age and their sense of humor and all the great things she liked about teaching middle school. She also offered me some advice about teaching in high school, as well.
What are your duties in the role of president of EdRising?
As the president of EdRising, I am in charge of running the meeting and staying up-to-date with our national society and the topics at hand that they want us to discuss. Our organization is here to help inspire students to pursue degrees and careers in the field of education. As the world around us changes, so do the students that are going to be sitting in our classrooms.
One of my main goals as the president of our chapter is to help work on skills in our meetings that we will be able to put into use in the classroom when we get there. During our meetings, we have discussions and work on different exercises that put us in the shoes of the teacher. The more opportunities that we can offer to ENMU students about cultivating teaching skills, the better educators we are going to be able to send out into the classrooms.
How can students get involved?
For students interested in getting involved in our organization, we have meetings on Monday nights once a month at 6:30 p.m. in ED 120. Our next meeting is on Oct. 14. If anyone is interested in joining, they should email me at This email address is being protected from spambots. You need JavaScript enabled to view it., and I can give them more information and updates on when our next meetings will be.
Our organization also works with area high schools and is able to work with high school students on projects for their Ed Rising chapters.
Any additional information that you would like to share?
It is free to join our organization! We have leadership opportunities that will be available to us throughout the year to help us grow as a chapter. Education is the future of our society and one of the best tools we have!
Educators Rising ENMU was recently named Chapter of the Month by Educators Rising Collegiate.