The Eastern New Mexico University Student Association of Social Workers (SASW) has received two awards this semester recognizing the positive impact the organization's members have made in their local communities: Volunteer of the Month for February from the Roosevelt County Chamber of Commerce and the Six Principles of Non-Violence Award during the Martin Luther King Jr. Day Celebration, sponsored by the City of Portales Cultural Affairs Committee, ENMU, Portales Municipal Schools, KENW-TV and the New Mexico State Martin Luther King Jr. Commission.
Tyleen Caffrey, instructor of social work and faculty advisor of ENMU SASW, and members of the organization share details on their volunteer projects and what these awards mean to them.
Tyleen Caffrey
Discuss the ENMU Student Association of Social Worker's recent projects. What inspired these projects? What was your role in these projects?
The officers and I have a few meetings before each semester to go over our plans for the semester. Our unofficial motto is "Social Work is our FAVE." FAVE is the acronym for our mission of Fundraising, Advocacy/Outreach, Volunteering and Education. Each month the officers create one FAVE for a total of four events each month. The inspiration comes from ideas spotlighting our social work profession and the individuals impacted by our work.
We focus each month on reviewing national calendar events to bring awareness to special populations, such as Domestic Violence Awareness Month (October), Adoption Awareness Month (November), Social Work Month (March), Child Abuse Prevention (April), Sexual Assault Awareness Month (April), Foster Care Awareness Month (May) and Dressember all month of December to educate about human trafficking. This month, we are raising awareness for the importance of mentoring, and our members are thanking dedicated mentors with gifts. We celebrate national days such as we are planning to "Wear Crazy Sock Day" in March to bring awareness to Down syndrome, and to celebrate National Sleep Day/Self-Care we are planning a mixer in our pajamas and presenting on the importance of self-care for social workers.
In addition, we look at the cultural climate in our nation. Last fall, we hosted a military sexual assault awareness training with Arise as well as an MST survivor shared her story. We wore #IamVanessaGuillen t-shirts on Vanessa's birthday (she would have turned 21), sold them as a fundraiser, and donated funds to Arise as well as the Guillen family.
SASW hosts monthly APA workshops and "Let's Get Organized" workshops. We have podcast parties, training, and social media campaigns. For fun, the students host mixers with alumni and host fun events. Last semester we had a movie watch party, pumpkin carving night, and a Holiday gift exchange with a virtual party.
My role as the faculty liaison is to guide students. I ensure the project planning happens each month and available throughout the process.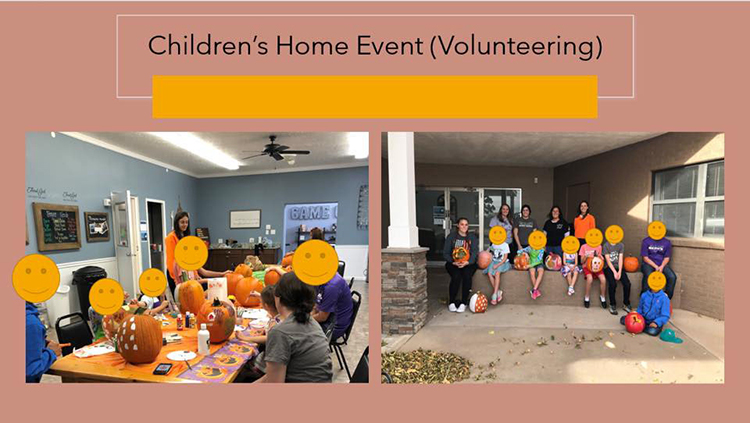 Tell us about the awards SASW has received.
In my second year as the faculty liaison, SASW received an award for Most Improved Student Organization from Campus Life/Academic Affairs. This award was selected by Campus Life.
The award during MLK was determined by the Portales Cultural Affairs Committee, ENMU and the New Mexico MLK Commission. The award was announced during the MLK celebrations televised on KENW/PBS.
For the Roosevelt Chamber Volunteer of the Month, SASW was selected by the Chamber for the students' work during the pandemic.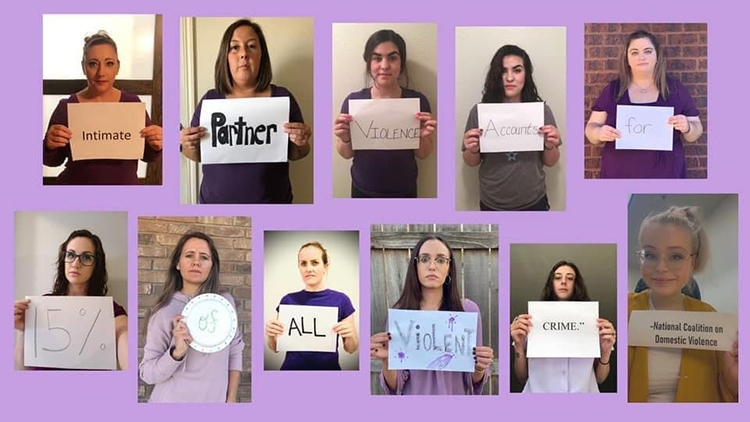 What does receiving these awards mean to you?
To me, it is validation for the hard work our students put in each month. Due to the nature of the Social Work Program, many of our students participate via distance education and live out of the area and most out of the state. Our fall president resides in Alabama, and our current spring president resides in North Carolina. Our VP last fall was in Portales, and the current VP is in Portales (nice to have one in the local area). Our secretary/treasurer last fall is in Hobbs, New Mexico, while this spring, our treasurer lives in North Carolina.
Our students put in hundreds of hours each semester to make a difference. They are most deserving of being recognized for their hard work and dedication. They are passionate about what they do; they meet and exceed goals every month. Each semester, the officers and members work hard, and I am thankful the University recognizes their efforts.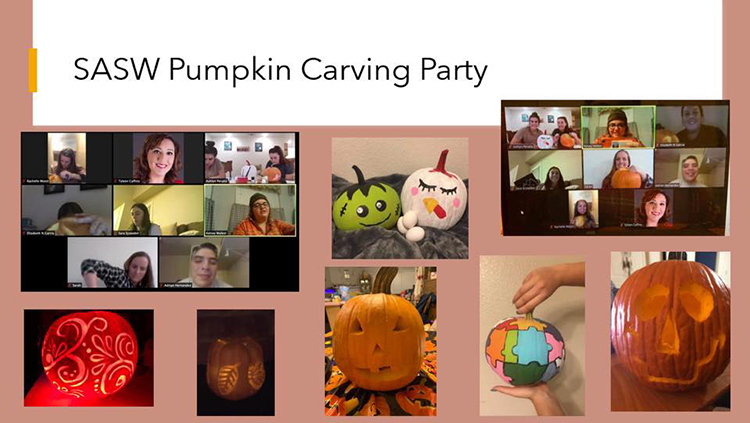 Tell us SASW's past, current and future projects.
In addition to those mentioned above, SASW also plans the following FAVE events (F is for fundraising, A is for advocacy/outreach, V is for volunteering, E is for education and O is for other).
August- F- Wesley House Adopt Students/Food/Supply Drive, A- Dawg Days and sent out recruitment letters, E- COVID education, O - back-to-school mixer and movie party.
September- F - shirt fundraiser that raised $150; donated $75 to Vanessa Guillen family and $75 to Arise, A - #IamVanessaGuillen Project, voter registration social media video campaign, suicide prevention social media campaign, E - suicide prevention virtual workshop, "Let's Get Organized" workshop, APA workshop, O - SASW Paint Party
October- F- online auction fundraiser that raised $153, A - National Bullying Awareness Month social media campaign and domestic violence social media campaign, V - Halloween party at Hope for Children, E - "Let's Get Organized" workshop, APA workshop, O - alumni mixer for Homecoming, SASW Pumpkin Carving Party, SASW Member Spotlight
November- F- baking fundraiser that raised $70, A - Warm for the Winter Coat Drive at North Plains Mall in Clovis, New Mexico, E- military sexual trauma workshop, Adoption Awareness including Birthmother podcast and coffee mixer, "Let's Get Organized" workshop, APA workshop, O - SASW Member Spotlight
December- A - Dressember, which is a human trafficking awareness campaign, E - "Let's Get Organized" workshop, APA workshop, O - SASW Member Spotlight
January- National Mentoring Month social media campaign, donated gifts to volunteers and held a back-to-school mixer.
February- F-Superbowl fundraiser, A - teen dating violence social media campaign, V - valentine's event at the Children's Home, E - teen dating violence workshop.
March- F - suicide prevention virtual walk/run, A - crazy socks day for Down syndrome, V - Social Work Month events, E - sleep day/self-care mixer, and we are also hosting an alumni mixer. In addition, students will be attending the virtual Student Legislative Advocacy Day.
April- F- t-shirt sale donations to Arise, A - sexual assault awareness social media campaign, E - pinwheel project for Child Abuse Awareness. There will be an alumni mixer this month, and students will be attending the National Association of Social Workers – New Mexico Chapter annual conference. We are still planning the V event for April.
May- Foster Care Month - social media campaign
Students
Kelsey Walker, who graduated in December with a bachelor's degree in social work after serving as the SASW fall 2020 president; Alison Sandridge, a junior serving as the current SASW president and majoring in social work; and Ashlyn Peralta, a junior serving as the current SASW vice president and majoring in social work.
Which project have you been involved in as a member of SASW, and what was your role?
Kelsey: I was involved in all projects as president of SASW. We worked on projects for fundraising, advocacy, volunteering, and education in order to help our communities. Some examples were World Day of Bullying Prevention, where we wore blue and posted about bullying to social media; working on a virtual auction as a fundraiser; completing a collaborative photo to raise awareness about domestic violence; hosting a workshop to educate and raise awareness about military sexual trauma; and participating in Dressember, where we wore dresses and posted to social media about human trafficking in order to raise awareness.
Alison: I am coming on brand new to SASW this semester, serving as president. However, I have already had the opportunity to plan and lead our advocacy campaign for National Mentor Month in January, and National Thank a Mentor Day on Jan. 29. Through this focus on mentors in January, we were able to advocate for mentorship in our communities and highlight the importance of mentors in reducing ACEs (adverse childhood experiences). We were also able to encourage members to find real ways to volunteer their time and resources to show appreciation for the mentors and youth mentoring organizations in their communities through thank you letters, donated materials and gift baskets.
Ashlyn: I have participated in many fundraising, advocacy, volunteering and educational (FAVE) events as a member of SASW. These events included volunteering at the Retirement Ranch in Clovis for Easter, volunteering at the canned food drive, participating in a Fall Festival at the Christian Children's Home and then a pumpkin carving activity there a year after. Now that I am vice president of this organization, I have moved into a leadership position that includes coordinating activities in the community. Our officers have created a list of FAVEs for the upcoming semester that will benefit both the community and ENMU students.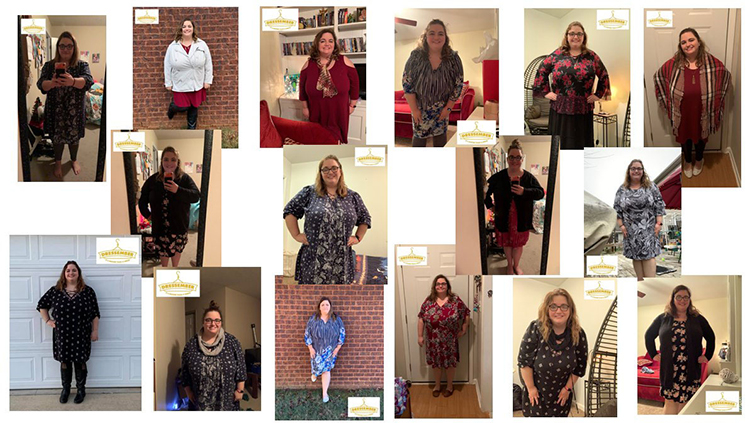 What did being recognized with the Six Principles of Non-Violence Award during the MLK Celebration Day and being named Volunteer of the Month by the Roosevelt County Chamber of Commerce mean to you?
Kelsey: It means so much to be part of such an awesome organization and that we received these awards. I felt so grateful we received them and was so excited when I heard the news. It felt great to have our hard work be awarded. I felt so honored and am still so excited and so thankful! I also wanted to give a shoutout to Mrs. Tyleen Caffrey because she really helped us with our projects.
Alison: These awards shine such a light on the legacy of standout service and advocacy by the Student Association of Social Workers at ENMU. It representative of the hard work and community focus of the members and leaders who have gone before me, so it's such an honor for me to step into this role as president for such an influential force on ENMU's campus.
Ashlyn: Receiving these awards has brought great joy to SASW. Since I have been a member, we have done our best to be active community members, all the while continuing to educate ENMU students on topics such as sexual assault awareness, autism awareness and human trafficking. These conversations can be difficult, and SASW understands that. This is why our organization brought in professionals of the fields and provided data to represent truthful facts. Along with these events, SASW ensured that their students knew all things ENMU. Many departments have presented to our students in hopes that they take advantage of the opportunities ENMU provides. It is exciting to see that our actions are being noticed.
Stay up-to-date on SASW's events and activities on Facebook, Instagram and Twitter.