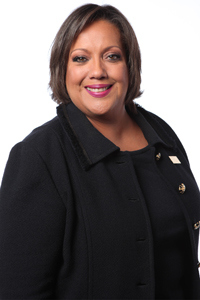 story by Desiree M. Cooper
Communication Services
"I was ready to become my own boss." – Deborah Sawyer
Deborah Sawyer, who attended Eastern New Mexico University from 1980-83, was one of ten Chicago, Ill., female leaders to be honored with a 2015 Womenetics POW! Award.
The POW! Awards are focused on women who inspire other women with their business leadership skills and the ways they impact their community.
The founder and Chief Executive Officer of Environmental Design International (EDI), an engineering firm, will be recognized at a celebration lunch at the Metropolitan Club in Chicago on March 25.
"I thought it was pretty cool," said Ms. Sawyer. "Who wouldn't want to be honored by a community of women business leaders who strive to 'risk boldly, lead unapologetically and succeed gracefully?'"
She was inspired to create EDI in 1991 due to having the "soul of the entrepreneur. I was always the kid with the lemonade stand, and quickly became a science chick.
"It seems like yesterday, but 24 years ago last month, I started my own professional design firm in a suburb of Chicago called Glen Ellyn. With just four employees, my life-long love of science and engineering and the experience of developing profitable business models for other people, I was ready to become my own boss."
When describing her experience as a woman CEO, Ms. Sawyer thought she was "just lucky to be able to blaze my own path in this field, while running my own company. Up until launching EDI, I was used to going out and getting the work and then producing the work. It wasn't such a huge leap for me to own my own business."
Her advice for women who strive to become CEOs is to be "courageous. I'd say to be strong, because there will be lots times when you will get knocked on your backside, and you've got to just pick yourself right back up and move on.
"I'd also say: never back down. Don't be afraid to ask for help. Never blow a chance to learn something new."
One of the main challenges Ms. Sawyer has faced is money due to the gender pay gap.
"When I worked for other companies, I never made as much money as my male counterparts. When I asked my boss why he said, 'it was because they had families to support.' There are laws against a lot of this stuff now, but not when I came along," she explained.
Money was an issue for her again when she tried to start her own business and needed an initial line of credit.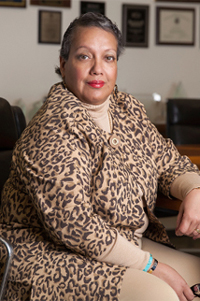 "The only banker at that time who ever took a moment to read my business plan said it was excellent and I had a substantial line of credit the same day. That Banker was a woman," she said.
"Minority-owned businesses, especially minority woman businesses, will probably always struggle with two key ingredients to a successful business—money and access. You need money to keep the lights on and meet payroll, and you need access to compete for contracts and the places where the big deals go down."
The CEO has done well despite her challenges. She was given "Outstanding Alumni Award" for Eastern New Mexico University in 2007, was named the "2003 Woman of the Year" by Zeta Phi Beta Sorority, Inc., and was the "Chicago Woman of Achievement" in 2009.
Ms. Sawyer said when she receives awards, those are the "moments that feel like I have finally arrived. Winning the Eminent Conceptor Award was one of them because EDI was judged by a jury of our engineering and science peers."
She is referring to an EDI receiving the American Council of Engineering Companies-Illinois Eminent Conceptor Award for Engineering Excellence in 2011 for the firm's Civil Engineering work on the largest urban solar power plant, located in West Pullman.
"This project transformed a 41-acre brownfield, which sat vacant for over 30 years, into an attractive, secure, zero emissions facility. It is the highest engineering honor in Illinois," she explained. "I also know that with every contract we win and successfully execute—large and small—EDI is helping make the path for diverse firms like ours a little less rocky."
EDI has made a difference in the world by transforming many underserved Chicago neighborhoods and providing professional services on many community projects, such as housing developments, schools, retail developments and university facilities.
"When you see kids playing in a beautiful, safe new park that was once a brown field, you know you're in the right business," said the CEO, who is working on expanding EDI's client base in the energy and utility sector. "A near-term goal of mine is to pull back a bit out of the weeds of day-to-day operations, and focus on big picture strategy and vision questions for EDI, like 'what will the next 25 years look like for EDI?'"
The Columbus, Ohio-native's personal goals is to "not have work be the main focus of my life. I'd like to travel—go to places that a long weekend or even a full week wouldn't do them justice."
Before starting EDI, Ms. Sawyer worked as Environmental Scientist for the Ohio Environmental Protection Agency. She then joined the private sector and rose up the ranks to senior vice president of an engineering consulting firm, where she created its profitable solid, toxic and hazardous waste management division.
She chose to attend ENMU because her brother went for graduate school and had a "great experience.
"ENMU reinforced my passion for science and helped position me to build this consulting business where having technical and scientific knowledge and experience is critical," said the CEO, who has a master's in biology. "This isn't just handshakes and deals on a golf course—you have to show you can deliver the goods on these highly complex engineering and environmental remediation projects.
"Though I've hired a seasoned staff of experienced engineers and scientists, our clients expect that understanding from senior leadership, too. If you're a geeky woman in math and science, being taken seriously can be challenging, but not in this line of work."
Mrs. Sawyer, who enjoys reading and gardening, said her role model is her mother.
"She was widowed young and had to raise three kids alone, getting us all through college and grad school," she explained. "My best advice is something my mom told me: 'Don't let other's perception of you become your reality.'"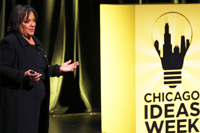 Ellen Adair, president of Womenetics, believes Ms. Sawyer is a "very successful and respected businesswoman whose work is indicative of what the POW! Awards represent.
"She built her firm from the ground up, in the heavily male dominated field of engineering, and has grown it into the reputable and results-driven company it is today.
"Deborah truly embodies the four elements of POW: business results, community impact, female development and powerful leadership," the president continued. "We believe she is a compelling role model for other women who are confronting challenges in unconventional fields and striving to succeed."