Denise Haeber Hahn, who graduated from Eastern New Mexico University with a double major in radio/TV production and journalism in 1992, was recently named Teacher of the Year at Berry Miller Junior High, located in Pearland, Texas.
She discusses her time at ENMU and what the award means to her.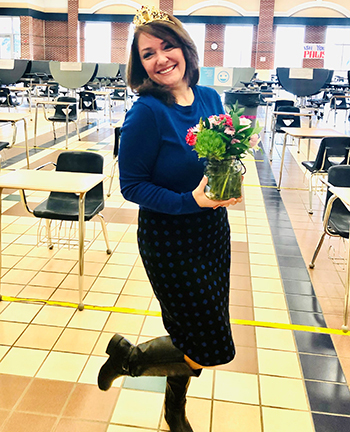 Why did you choose to attend ENMU?
ENMU was known for its outstanding Department of Communication, and it was the perfect option for me. It was in a town I felt comfortable in and offered many opportunities to gain invaluable experience. Because of KENW-TV's reputation for producing quality graduates, it also helped me land my first job at KFDA-TV in Amarillo, Texas.
How did you choose your field of study?
I knew I wanted to be a journalist when I was in high school. I was editor of my high school (Albuquerque High School) yearbook my senior year and fell in love with storytelling and producing a product to inform and entertain. Being a television journalist was an exciting option, and ENMU helped make that dream come true.
Which activities were you involved in at ENMU?
I'm a proud Chi Omega! Theta Zeta Chapter – woohoo! I'm proud of my service to my chapter as Social chairman, pledge trainer and vice president. My Chi Omega sisters have been a huge part of my life for over 30 years, and they mean the world to me. I was also a Silverado 1987-88, reported for The Chase as Greek Editor and worked at KENW-TV as a student workstudy from 1990-1992.
Discuss your experience at ENMU.
I loved my communication classes. We had amazing professors that prepared us to tackle anything that came our way. Dr. Lee Scanlon challenged me mentally in every class – and I saw the man nearly every day for four semesters. I thoroughly enjoyed every minute I spent in Mr. Leonard Leary's classes. His Topics of Communication: Negotiation class was amazing ,and, in my opinion, that class should be part of every ENMU student experience. I am forever in debt to Mr. John Weadock, my news director at KENW, who took a very impressionable young woman and made her into a good reporter. He taught me how to think critically and ask tough, important questions for my stories. My heart will always love Mr. Richard Rivera. I credit him with teaching me many of the technical skills needed for working in a TV control room. When I am teaching my students some of those same skills, I channel my inner Rich Rivera, and it makes learning so much more fun for my classes.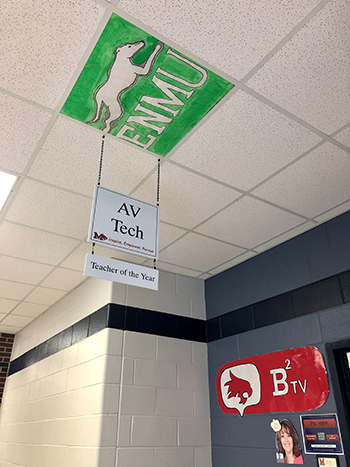 What is your job title? What inspired you to work in that role?
I am in my seventh year of teaching Audio/Video Production and Technology in Pearland, Texas. I became a teacher after I had been a substitute teacher for three years and found a place to utilize the journalism and television skills that I had attained at ENMU. Now that my three sons are grown, my heart is full every day getting to work with students that are excited to learn what I teach. I am extremely blessed to have the support of my Chi Omega sisters Kaylia (Wilmeth) Thomas and Alyssa (Bearce) Tapia. When I became a teacher in 2012, I asked Kaylia thousands of questions. She spent many hours with me helping me prepare my first classroom, my first lessons and was always there for a question no matter the topic. Alyssa has helped keep me sane as we both learn to teach remote students. She has great insight into dealing with parents and even though we teach two different grade levels; she is always supportive and funny!
What are your job duties?
I teach 8th graders basic technology, Office software programs, copyright, social media, pre-production of scriptwriting and storyboarding, filming and lighting techniques, and post-production video and photo editing using Adobe Premiere Pro and Photoshop. When beginning at Berry Miller JH in 2018, I created Bobcat Broadcasting, a bi-weekly campus news program. Now in Season 3, I am so proud to have added an element of communication and culture to my campus and been blessed to work closely with dedicated students that work hard to produce a show that many times rivals the local high school programs. I am also fortunate to handle the social media for my school. It is very rewarding to get to publicize the great things our students and teachers accomplish and share them with our community and beyond.
Which aspect of your career is the most rewarding?
Making an impact on a student's life. As a teacher, I am blessed to meet and spend a year with students from many different backgrounds. I learn new things about so much simply by being in the classroom every day with my students. I enjoy challenging students to tap into their creativity and how to make their ideas come to life. Nothing is better than seeing a student proud of their work when they realize they have skills that made their vision a reality. I am still in contact with former students that are now in the television news, public relations and technology fields. I have former students working at WKYC in Cleveland, Ohio, for the Houston Texans and for Google. I am a proud momma!
What are your short- and long-term goals for this position?
This teaching year has been more challenging than anyone can imagine. I am teaching both on-campus students and remote students. No teacher was prepared for the hurdles we would encounter this year. My short-term goal is to make it to the end of this school year and take a much-deserved summer break. This year has challenged me to think outside of the box and helped me re-evaluate my teaching content to make it fresher and more engaging for the remote learner. My long-term goal is to continue to build an amazing AV program at my campus. I'm fortunate that Pearland ISD places great value on technology instruction, especially with the visual arts. We are encouraged to keep our content relevant, and I have plenty of stories about what I learned at ENMU and how those lessons are still important today.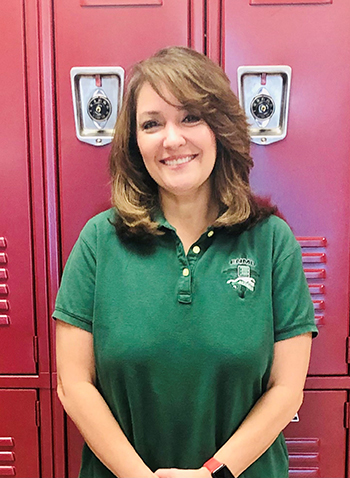 What does it mean to you to be named the Berry Miller Junior High Teacher of the Year?
I am incredibly honored and humbled to have been selected as my campus' Teacher of the Year. It means a great deal to me to be nominated and have the support of my fellow teachers. There are many amazing people on staff at my school, and we are working hard every day to give our students the best educational experience we can. To have been selected as a top teacher during the hardest teaching year makes me extremely proud.
What were some of your previous jobs?
Weekend Anchor/Education Reporter, KFDA-TV; Assistant Director of Public Relations, College of Santa Fe; Public Relations Specialist, Neighbors Emergency Center.
How did ENMU prepare you for your career?
ENMU did a fantastic job getting me ready to work in live television because of the experience we gained doing live television newscasts as students. My transition into the professional tv market was seamless thanks to John Weadock and Rich Rivera.
What advice would you give to a student interested in working in your career field?
If you are looking for a great college education and experience, Eastern is the best place to be. For learning broadcast, jump into every opportunity available at KENW. Volunteer to stay late. Absorb everything around you. Listen to all the information the staff and faculty are saying. It will be the best investment you make in your future, I promise.
Are you involved with any organizations or causes?
Adult State Officer for the Grand Assembly of Texas, International Order of the Rainbow for Girls; Past PTA President at three campuses in Pearland ISD.
Tell us about your family and background.
I attended ENMU from 1987 to 1992. I am a proud mother of three sons: James (24) serving in the United States Air Force stationed at Ramstein AFB, Germany; Andy (22), a graduate of University of Houston Clear Lake; Ted (21), graduating Magna Cum Laude from the University of Houston in May 2021 and commissioning into the US Air Force. I am a 1987 graduate of Albuquerque High School. I have lived in Pearland, Texas, since 1996.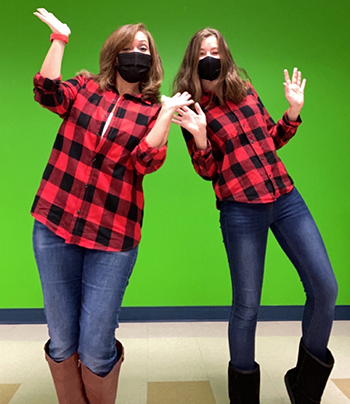 Who influences you?
I'm influenced by the amazing teachers and administrators I have worked with since 2006 in Pearland schools. I have learned a lot of important things observing and working with some of the most dedicated and talented individuals in the world. Iron sharpens iron, and I couldn't ask for a better place to be than where I am.
Which accomplishments and awards have you earned?
Berry Miller Junior High School Teacher of the Year 2020-2021; Gulf Coast Credit Union's 2016 Favorite Teacher Award recipient; Silverlake Elementary PTA Lifetime Membership Award recipient 2006; Rogers Middle School PTA Lifetime Membership Award Recipient 2008.
What are your hobbies?
Watching historical documentaries, watching movies, traveling with my sons and taking adventures with my friends.
Share an interesting fact about yourself.
I can recite every line and know every song from the movie "Grease." But what Chi Omega from my generation can't?
Anything else you would like to share?
My time at Eastern was the best five-year period. I grew up, learned to be independent, had my first apartment, attained an excellent and affordable education, gained experience that led to a professional career and made lifelong friends. I am a Greyhound4Life!
Ms. Hahn with her sons.