Ms. Stephanie Taylor McCorkle, who graduated from Eastern New Mexico University with a bachelor's degree in business administration in 2015 and a master's degree in education administration in 2019, is an inventory analyst with revenue management for the Disney Parks, Experiences and Products team in Orlando, Florida.
Before starting her current position in April 2021, Stephanie held roles as part of the IncrediCrew for Walt Disney World Parks, a Club Lounge concierge at the Grand Floridian Resort & Spa at Walt Disney World, a Rooms Division manager trainee at Loews Hotels Universal Orlando and a teacher and head cheerleading coach for Clewiston Middle School in Florida. She was part of the Disney College Internship Program in 2016.
The Greyhound Grad discusses her love for Disney and her time as a student at Eastern with the ENMU News.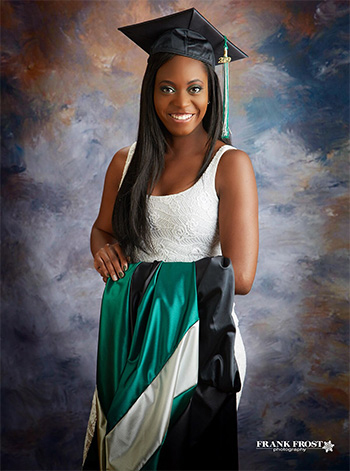 What inspired you to work for Disney Parks?
One of my fondest childhood memories is vacationing at Disneyland in California. Seeing the magic that is created every day inspired me to one day be the person behind the magic.
What does your position entail?
I pull raw data from the database to create a query (report) that is used to build data visualizations for executives.
Which aspect of your career is the most rewarding?
Being able to tell stories with data and numbers, starting from a blank canvas and finishing with graphs and charts – that paint a story for our business partners. Being inspired by art through my mother and grandfather, I am able to create art through data.
What are your short- and long-term career goals?
In order to provide the best data visualizations, it is important that I further my knowledge in learning data science such as SQL, R, Power Automate, Advance Excel, and Tableau. That is my short-term goal.
For my long-term goal, I am currently working on my MBA at Purdue Global University in business administration with an emphasis in finance. Throughout my universal studies, I hope to gain more insight and knowledge in all aspects of the business world so that I am more marketable as an executive one day.
How did ENMU prepare you for your career?
ENMU demonstrated on a daily basis the qualities of good business management. The business program was inspiring, provided the support and education that is necessary to be successful in the business world. The student body was made up of people from around the world that introduced me to diverse voices and inspiring cultures.
Why did you choose to attend ENMU?
Being a student-athlete, I chose ENMU because they were offering a track scholarship that allowed me to play a sport I love and study in a program that I long desired. I wanted a school that I could stand out in and not get lost in the crowd. ENMU provides an academic environment where you get one-on-one attention with the professor but large enough to collaborate with classmates. Being close to home (Albuquerque, New Mexico) provided me an opportunity to visit my family spontaneously.
How did you choose your field of study?
In high school, I was a part of DECA, a business class that traveled the nation to compete in various areas. Through this process, I was encouraged by the cities that we traveled to, but also motivated by the various areas departments that business branched off to. Since I was a kid, I have been inspired by colors and creativity, which developed into a study in marketing. Competing on a local, state and national level allowed me to discover large and small businesses that I wanted to be a part of. After being a teacher in 2018, my students inspired me to follow my dreams. To build a path in the business world that one day the younger generation will be motivated by and follow.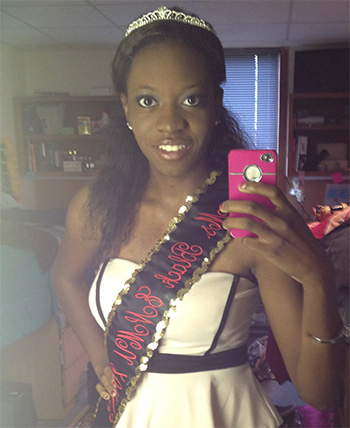 Discuss your Eastern Experience.
I was Miss Black ENMU 2012, runner-up for Homecoming queen in 2012, a member of the track and field team and served as a student mentor.
I had many experiences at Eastern; the most memorable was becoming Miss Black ENMU. The pride I have in carrying this torch was exemplary and highlights my rich culture and people I am so proud to be a role model for.
I had three favorite professors at ENMU. One was Dr. Frederick Greene; Business Law was not only my favorite class but opened my eyes to legal philosophies. I enjoyed reading about business cases and debating the problems in the case.
Another was Dr. David Hemley; he's, to date, the toughest teacher I've had but has been a huge inspiration to my decision years later to concentrate on finance.
Dr. Cherylann Dozier had me think outside the box about life, career and professional decisions. She had a clever way of asking questions to get your mind thinking about what's next. Her energy was contagious to be positive, learn more, and be the best that I can be in the process.
I would like to express my sincere gratitude and appreciation for the continuous support and contact that was provided for me in my efforts to complete my program and move on. The professionalism, poise and knowledge that they all contributed to was a positive experience for me at Eastern.
What advice would you give to a student interested in working in your career field?
A wise person once told me that life is a box of the toolbox. Adding to that, I would advise people interested in working in my career field that your tools in your toolbox need to be sharpened. They are sharpened by enhancing your skills through certifications and degrees, taking on projects that are challenging, and by having a positive mindset. Every tool has a place in your life (toolbox), so just because a job or an event in your life looks like it doesn't connect, it will connect in other places and spaces in your life to make you a better version of YOU.
Are you involved with any organizations or causes?
I am part of the Diversity and Inclusion Committee for Walt Disney World and the PULSE (People, United, to Lead, Serve, & Excel) group for Walt Disney World.
Tell us about your family and background.
My grandmother and father are both administrators in the public school system united to lead in the field of education. My grandmother was the first African American middle school principal in Albuquerque. My family inspired me to earn my master's in education administration.
In addition, I have a family history of service providers, artists, illustrators, business entrepreneurs, massage therapists and accountants who have all contributed to my background and my field of study.
Who is your role model?
My grandmother Annie Pearl Stallings was a service provider and worker in the factories of Palm Springs, California. Her parents were descendants of slaves. One only needs to look at women such as her who have charted the course for their people with such grace. This is why her life is so inspiring to me is because it gives light/hope in the midst of a storm. My ancestors who fought through slavery, oppression and depression always relied on God to make it through. My grandmother turned her challenges of being oppressed to build a strong foundation for my future.
Tell us about your accomplishments and awards.
When I was a kid, I was recognized as an honor student in Who's Who Among America's Outstanding Middle School Students. I was also recognized as "Person in the Spotlight" at my church, noted as a young woman with many talents, interests and achievements.
At Walt Disney World, I received numerous awards and recognitions, including 16 "Grape Soda" in five months, which are recognitions noted for measuring the performance of guest satisfaction.
Currently, at Purdue University, I have received the Alpha Beta Kappa Honor Society and the Golden Key International Honor Society awards.
What are your hobbies?
I love to create digital art on my iPad, see the beauty of the world through traveling, and read inspirational books.
Share an interesting fact about yourself.
Among my colleagues and college student friendships, I have always been admired and known to give insight, advice, and guidance to those in need. I was known as the "mother figure," and friends or colleagues will value my thoughts, words and opinions on various situations.
Who is your favorite Disney character?
My favorite Disney character is Shuri, the younger sister of T'Challa from the movie "Black Panther." Shuri is the backbone in creating the most innovative equipment for Black Panther and other Wakandan warriors.
What is your favorite Disney movie?
My favorite Disney movie would be "Hocus Pocus." Every fall, when Disney starts the 31 Nights of Halloween, I always look forward to this Halloween classic.
Is there any additional information you would like to share?
It's early in my career; however, I have noticed that I am on a fast-track promotion rate in my career, so I feel that Eastern did an exceptional job in educating and preparing their students for success in corporate America.
Even in a post-pandemic period, I have been innovative and successful in my accomplishments in learning the necessary trades that are useful in my field.