Carly Perkowski, who graduated from Eastern New Mexico University with a bachelor's degree in biology with an emphasis in pre-medicine and a minor in chemistry in May 2020, is taking big steps toward her medical career. She has interviewed with three medical schools; she has been accepted to the West Virginia School of Osteopathic Medicine and is waiting to hear back from the other two.
The dean's list honoree, who plans to start medical school this summer, discusses her academic journey and career goals.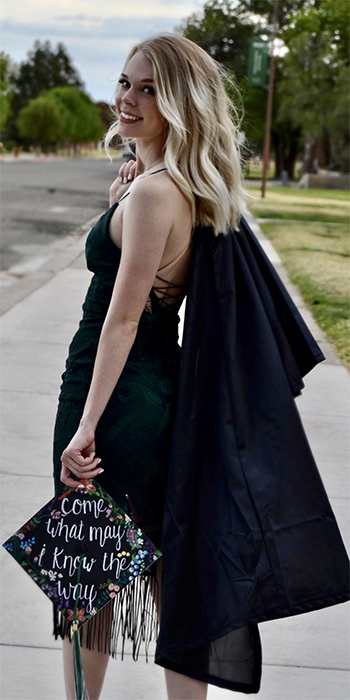 What inspired you to go to medical school?
My mother is a pediatric medical assistant, so I grew up spending my summers in the doctor's office. I idolized the pediatrician for her intelligence and diagnostic abilities, motherly-like bedside manner and gentle nature. She is a huge role model for me, and I wanted to emulate her for as long as I can remember. Working in the emergency department around people who inspired me and seeing firsthand the positive impact we made on the community kept me motivated to persevere during school and the application process.
Which part of medical school are you the most excited for?
I think I'm most excited to continue learning science and medicine. I took a gap year to apply to medical school and have really missed being in-class learning. I'm also very excited to begin learning hands-on skills and being able to apply classroom learning to practical, real-world situations.
How did ENMU prepare you to go to medical school?
ENMU fosters a collaborative environment among students and faculty that leads to more interactive lectures and labs. I felt that because of the smaller campus, each professor knew me and therefore held me to a higher standard which definitely enriched my educational experience. STEM at ENMU emphasized the importance of research and literature and integrated this into every course that I took, which I feel will be worth its weight in gold during medical school.
What do you hope to pursue as a career?
Right now, I'm interested in emergency medicine, but I know that I may find something else that catches my eye during medical school!
What do you hope to ultimately achieve in your career?
Currently, my main goal is to leave a positive impact on and improve the lives of people in my community. I'm motivated to be a life-long learner and make each decision with my patients' best interests in mind.
Which activities were you involved in at ENMU?
I worked at Plains Regional Medical Center ED while attending ENMU. Having mentors in the ED that I looked up to helped keep me motivated to excel in college. I also volunteered with Meals on Wheels in the Portales and Clovis community and was involved in animal fostering and rescue.
Which ENMU served as mentors to you?
Each of my professors at ENMU had a significant impact on my journey. Dr. Varela, in particular, helped reignite my passion for science and was incredibly supportive throughout the application process.
What was your favorite class at Eastern?
My favorite class was between Immunology and Medical Microbiology. I learned in these classes how to review and critique scientific articles and loved group case study days. I really enjoyed being able to apply the science that we were learning to disease.
Why did you choose to attend ENMU?
I moved to the area as a junior in college, and ENMU had my degree program. I picked up where I left off and completed my last 66 credit hours at ENMU.
What advice would you give to students who are interested in your field of study?
My first piece of advice for students is to advocate for yourself and your story despite any roadblocks in your career. Strive to persist towards growth and know that your statistics will not define your ability to be a good physician, pharmacist, PT, PA/NP, etc., if you portray your story well. Secondly, find mentors to learn from who you hold in high esteem and who push you to achieve your goals. Finally, if you have a goal and you are adamant about achieving it, do not consider a "Plan B." Plan B makes it easier to abandon your Plan A.
Tell us about your background and family.
I was born and raised near Cleveland, Ohio. My dad is a college director, and my mom is a medical assistant in a pediatrician's office, which is where I learned that I wanted to be a doctor. I have one younger sister who lives in Pittsburgh, Pennsylvania and works for a publishing company.