Greyhound Grad Montana Hagler is keeping her love of green and silver, but especially green, going by taking part in a community collaboration greenhouse program in her role as a teacher of Sustainable Agriculture and Greenhouse Management at Lovington High School in Lovington, New Mexico.
Montana, who graduated from Eastern New Mexico University with a bachelor's degree in agriculture education in spring 2020, discusses the project and her time in Greyhound Green as a student at ENMU.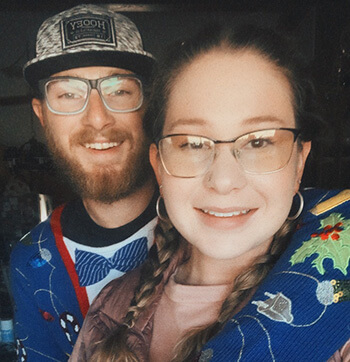 Tell us about the greenhouse program.
The greenhouse program came to be through community collaboration with the help of several stakeholders in the community who had offered up funds to make the greenhouse program a reality.
When I approached Lovington High School about the open teaching position in the spring of 2020, I was able to learn more about the goals the district had for the program. At the core of the program is the idea that students are able to learn best through exploratory learning, and when given the opportunity to get their hands dirty, students begin to dedicate themselves to a more meaningful and impactful learning experience.
As an educator, I am here as a resource to guide and direct my students to become the best versions of themselves. Although a large percentage of my classes may not pursue success in agriculture-specific fields, the topics of study we cover throughout the school year are practical and easily applicable to everyday life.
Students are able to learn valuable life skills by working in the greenhouse. Some of these life skills include teamwork, leadership skills, and problem-solving and critical thinking skills. Students also learn first-hand that responsibility and commitment are important character traits to have in becoming successful.
Over the last two school years, around 250 students have had the opportunity to work in the greenhouse and observe plant growth from seed to harvest. These students have also had the unique opportunity to work with several different hydroponic systems and have been able to dive deeper into the future of large-scale food production.
We hope to receive funding soon to build a second greenhouse on campus to use specifically for potted plant storage for our plant sales and more hands-on opportunities for students to learn the skills discussed in the classroom.
Discuss your teaching role.
After graduating from ENMU in the spring of 2020 with a Bachelor of Science in Agriculture Education, and at the beginning of the pandemic, I was unsure of what the future held for me in terms of where I would begin my teaching career.
After hearing that Lovington High School was working on creating a new horticulture program and was building a state-of-the-art hydroponics-based greenhouse, I knew this was the position for me, and I eagerly applied for the job.
After an interview with the administrative staff and a very long week and half, I heard back that the position was mine, and just like that, I had secured my dream job!
As an educator, I wear many hats! Each day I am tasked with making hundreds of decisions with my students and for my students to guide them to become well-rounded, impactful and prepared people.
I lesson plan, ready classroom and greenhouse materials, tidy my room, help students complete college applications or job applications and am a listening ear for students who have a rough time and a problem solver for those students who need help navigating homework or sometimes just life in general.
I am a Science Olympiad coach and an FFA advisor/coach. I also work with my colleagues to put on plant sales and prepare for upcoming events at the school.
Which aspect of your career is the most rewarding?
Identifying one specific aspect of my career as the most rewarding is often difficult for me because there are so many wonderful moments that encompass what I do on a daily basis.
Although, I do have to say one of the most rewarding aspects of what I do each day has to be the relationships I have been able to forge with my students. I have been able to share moments with my students during times of joy and celebration as well as during times of uncertainty and frustration.
There is nothing that sets my heart on fire for teaching more than watching my students develop confidence in their abilities. There is nothing more rewarding than getting to take a step back and watch my students work hard to accomplish the goals they have set forth for themselves.
What are your short- and long-term career goals?
My short-term career goals include finishing out the current school year strong and completing over 170 hours of professional development in workshops this summer.
My long-term career goals include continuing to grow the greenhouse program at LHS and implementing a third and fourth-year class for the program. I would also like to complete a dossier and have been pursuing an interest in becoming a nationally board-certified teacher after moving to the level II-tier.
Tell us about your family and background.
Growing up in Belen, New Mexico, I was raised by my father, Richard Hull, and mother, Juanita Flores-Hull. After graduating from Belen High School in May of 2016, I moved to Portales, New Mexico, to begin my journey at ENMU.
I met the kindest and most determined people at ENMU, including my now-husband, Paden. He was also part of the ENMU Collegiate FFA Chapter, ENMU Kappa Delta Pi Chapter and the Teacher Education Program at ENMU.
After graduating from ENMU in spring of 2020, my husband and I were married in Ruidoso in July of the same year. We are both blessed with extraordinary family and friends. We have recently purchased our first home in Hobbs and are excited to see what is next as God's plan for our lives continues to unfold.
Why did you choose to attend ENMU?
As a student interested in studying agriculture who also wanted smaller classroom sizes, I knew ENMU was the place for me. ENMU offers classes in agriculture and education that are top tier.
How did you choose your field of study?
Throughout high school, I was interested in science. I was a part of the MESA club and enjoyed learning about animal and plant sciences in my agriculture classes and FFA.
What truly led me to major in agriculture was the fact that I didn't have much background knowledge in the subject at large. I grew up in an agricultural community but did not understand how greatly I was affected by agriculture until I started taking agriculture classes in my sophomore year of high school.
Therefore, everything I learned was always new and exciting. Agriculture is important; it's the backbone of society as we know it today. A large percentage of the general public is not agriculturally literate; it's a challenge the agriculture community as a whole works to tackle each day.
It has always been my goal to learn as much as possible, so I may teach others about what I have learned to make their lives better and, ultimately, create a more agriculturally literate world.
Which academic honors and scholarships did you receive at Eastern?
I was on the dean's list from the fall of 2016 to the spring of 2020. My scholarships included the Panhandle Grain and Feed Scholarship, College of Education Scholarship, Heidi Best AG Scholarship, Jack and Ladeane Murphy Agriculture Scholarship, Kelli McGarrh Scholarship and MG and Audrey Hunt Scholarship.
Discuss your Eastern Experience.
As many of my senior high school students are in a season of trying to decide where to go to college, I always recommend they take a look at what ENMU has to offer them.
My time at ENMU was such a blessing; I would not change a single moment. Some of my favorite memories include creating butter by hand in one of Dr. Smith's classes and working in classrooms with middle and high school students for several of my education classes.
I can say with absolute honesty that I would not be the teacher I am today without the dedication and intentional care and commitment towards my success from my professors and many others at ENMU. Those who come to mind are Dr. Darron Smith, Dr. Kathleen Wagner, Kim Potters, Kari Lemke, Dr. Jayson Evaniuck, Dr. Lesley Judd and Dr. Michael Shaughnessy.
These individuals truly set the example for me in terms of what the difference is between a good teacher and an outstanding educator.
During my time at ENMU, I had the opportunity to serve the University as a peer mentor for three years through the PACT Title V Peer Mentorship program and as a tutor for agriculture and education classes.
How did ENMU prepare you for your career?
Attending ENMU for my bachelor's degree prepared me for my teaching career by, first and foremost, creating opportunities for teacher candidates to work in classrooms with students during my time in the program.
Having the ability to see first-hand how classroom management and student-teacher rapport are built was very helpful when I went into my first year of teaching. Not only was I able to apply what I was learning in my education classes in a real classroom setting but learning alongside my peers and some of the best educators New Mexico has to offer also allowed for networking opportunities that were helpful in my first two years of teaching.
I always recommend to anybody that I know who is interested in pursuing a career in education to research what ENMU has to offer them in relation to their goals.
What advice would you give to a student interested in working in your career field?
Take every opportunity to learn who you are at your core and to cement in your mind your personal "why" for choosing to become a teacher.
Teaching is a demanding profession that often requires compassion, grace and grit on a daily basis. Teaching is important, do not let anyone try and dull the fire you have inside of you to impact the lives of young people.
Do not become afraid of your own potential because you can, and will, do great things.
Who is your role model?
Even after graduating from ENMU, I have been able to look for guidance from the director of Teacher Education at ENMU, Kari Lemke. During my time in the Teacher Education Program, Mrs. Lemke was a tremendous help and worked hard to ensure I always felt supported and prepared to accomplish the goals I set for myself.
Since meeting her during my second year in the program, she has been someone I have been able to rely on for guidance and support. Mrs. Lemke truly has a heart for serving others, she is a compassionate and caring individual, and I hope to be able to exemplify my love and dedication for the education profession the way she does each and every day. I would not be the person or educator I am today without her guidance.
What are your hobbies?
During my time outside of the classroom, I enjoy traveling to disc golf tournaments with my husband and spending time with friends and family.