Wedding bells are in the air for two Greyhound Grad staff members! Sara Nino, who received a Bachelor of Science in Animal and Dairy Science with an emphasis in production and management from Eastern New Mexico University in 2016, is marrying Zachary Santos, who graduated in 2020 with a Bachelor of Science in Communication with an emphasis in public relations.
The duo discusses their wedding plans and how they met at ENMU.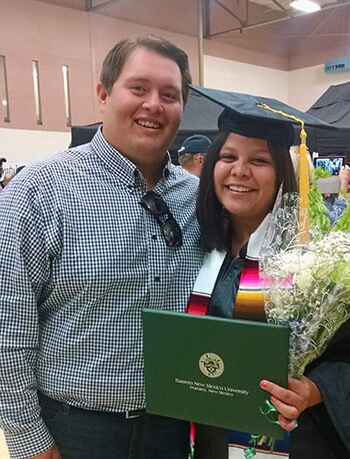 Tell us about your relationship and your upcoming wedding.
Sara: We met my senior year, 2015, through a mutual friend (shout out to Taylor) and just kind of hit it off!
We both were very involved with Eastern – I think that is what I liked the most from the start, he had his things, and I had mine, and we supported each other well on both sides. We got to go to a lot of the same events, and it brought us closer together.
We're both very outgoing people, and I think that's what made us kind of go together so well.
Zachary: Sara and I met when we were in college here at Eastern. I was sitting with my fraternity brothers on the couches in the Campus Union when she walked in from the patio.
The first thing I noticed about her was the way the sun hit her long, flowing hair and how big her smile was. So big it actually makes her eyes squint.
She was tabling for the Associated Students Activities Board (ASAB). I used this as an excuse to go up and talk to her about the events they were promoting for the coming semester. A few conversations and dates later, I asked her to marry me this past September, and I was lucky enough she said yes.
We both look forward to tying the knot in August in her hometown, Hereford, Texas.
Tell us about your family and background.
Sara: I grew up in Hereford, just east of Portales. My dad is an ENMU alumnus (class of '91); he and my mom loved that I chose Eastern, mostly, I think, because it's not too far away.
Zachary: My family is from the big city of Jal, New Mexico, which you can probably hear the sarcasm due to never hearing of the town before.
My mother and I moved to Portales in the fall of 1999, where she continued her education degree and where I began bleeding green from an early age.
Why did you choose to attend ENMU?
Sara: I chose Eastern because it was close to home and I liked that it wasn't too big. My dad was also an alumnus, so that pushed me a little more.
Zachary: A large portion of my family attended Eastern, so I decided to keep it in the family.
How did you choose your field of study?
Sara: I have a big love for animals. I wanted to be a veterinarian, but I was not the best at science. My advisor and I chopped it down to the production and management aspects of things.
Zachary: I was involved in a few organizations during my undergrad doing some event planning and public relations projects. I found a passion in working with people and their organizations or services.
Which activities were you involved in at Eastern?
Sara: I was in ASAB and was a front desk worker in the Campus Union. I was also a member and vice president of the Pre-Vet Club.
Zachary: I was involved in Kappa Sigma, where I served as vice president. I was on the Associated Students of Eastern New Mexico University (ASENMU) Student Senate, as well as the dean's list.
Discuss your experience as a student at ENMU.
Sara: My experience at ENMU goes beyond the classroom – I absolutely loved staying involved with ASAB and everything on campus. I have met lifelong friends because of my involvement in organizations.
Zachary: Some of my favorite classes were any that I had with Dr. Dobson, Dr. Birkey, Dr. Roe or Mr. Caffrey. My freshman Interpersonal Communication class with the Late Lonzo Lassiter was always a joy as well. As far as activities go, tailgates with friends and fraternity brothers were always my favorite.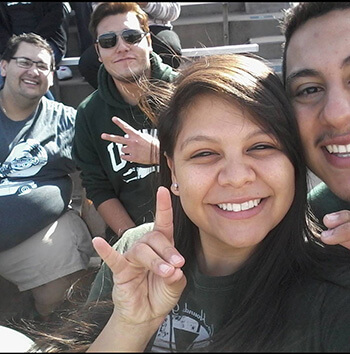 Tell us about your accomplishments and awards at Eastern.
Sara: I was ASAB Member of the Year in 2014 and ASAB Coordinator of the Year in 2016.
Zachary: I was recognized as a Nationally Outstanding Grand Procurator (Vice President) of our Kappa Sigma Chapter here at ENMU, and I was also recognized as the Theta-Zeta chapter of Kappa Sigma's Man of the Year in 2018.
Tell us about your job at ENMU.
Sara: I am an administrative assistant in the Office of Alumni Affairs. I wanted to get back into being involved with my alma mater and giving back so to my school, and so when I saw this opportunity, I thought, what better way to get started?
I assist my director in daily tasks, plan events for alumni and get sponsorships for scholarships for students.
Zachary: I currently work in the Office of Enrollment services as a freshman recruiter for the New Mexico (southwest) and Texas schools within 135 miles of ENMU.
At first, just having a job after graduation was inspiring enough, but then I saw the value in helping give high school students in my recruitment territory the opportunity to have the same if not a better experience than I did when I was an undergraduate at ENMU.
I'm responsible for facilitating targeted outreach efforts to my recruitment territories, maintaining up-to-date contact records and traveling to programs and high schools to present recruiting information.
Which aspect of your career is the most rewarding?
Sara: So far, I love meeting everyone that works here at Eastern. Everyone has been so nice and willing to lend a hand and help however they can.
Also, coming back to school as a staff member instead of a student and seeing how everything has changed and improved has been amazing.
Zachary: Seeing students go through every phase of the admissions process is the most rewarding element of my job. I enjoy meeting students at presentations at their high schools, then for campus tours and eventually seeing them registered and on campus every day.
What are your short- and long-term career goals?
Sara: I hope to stay in this department for as long as they will have me! We plan to start a family soon; I would love to stay involved with Eastern for as long as possible.
Zachary: I would really just like to continue to recruit as many high-quality students as possible to benefit from ENMU's phenomenal education and experiences.
Which jobs did you hold previously?
Sara: I was at Caprock Veterinary Clinic and Western Dairy Transport.
Zachary: Before my time at Eastern, I worked as a board operator and assistant to the promotions coordinator for Rooney Moon Broadcasting, as well as a respite care provider for TNT Health Services.
How did attending ENMU prepare you for your career? How do you feel about returning to Eastern, this time as a staff member?
Sara: Eastern gave me the social skills (that I lacked before) and the ability to network and create relationships that go beyond the work office.
Coming back as an alumna is definitely rewarding. It is different from just starting a new job; it is like coming back to an old one, and it is a comfort already.
Zachary: During my time in Student Senate, we had several leadership workshops. I believe my experience being involved with the Kappa Sigma Fraternity really prepared me for the diverse set of skills I would need to work my job efficiently.
What advice would you give to a student interested in working in your career field?
Sara: Definitely, get involved in groups on campus that make you get out and talk to people. ASAB is an excellent one to start with since they plan events and market and promote them as well!
Zachary: My biggest piece of advice to students would be to get involved. No matter where they go to school, get involved and really soak up the college experience as much as possible. There are so many lessons to learn and skills to hone around every corner.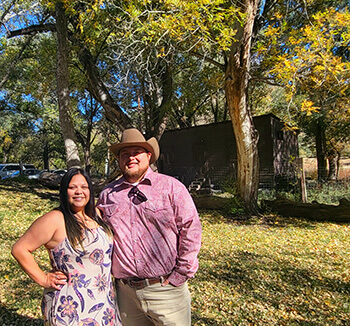 Are you involved with any organizations or causes? Volunteer work?
Sara: Not right now, but I'm working on getting more involved!
Zachary: Currently, I volunteer as an alumni volunteer for Kappa Sigma.
Who is your role model?
Sara: My role models are definitely my parents. They each have their own amazing qualities and skills that I still carry with me to this day. They each are very respectable in their community, separately and as a couple.
I aspire to be able to grow both personally and professionally with everything they have taught me, from meeting new people and being responsible and respectable to being the go-to people when anybody needs a hand.
Zachary: By far, my biggest role model has always been my mom. She raised me more or less on her own with the help of our family for most of my life.
She did this all while putting herself through school and earning her teaching degree, then later pushing me and helping me through school. I would absolutely not be the person I am today without her.
What are your hobbies?
Sara: I love to color and hang out with my two fur babies.
Zachary: I enjoy watching movies, enjoying a beverage with my friends, family and brothers, cooking out and fishing whenever I get the chance.
Share an interesting fact about yourself.
Sara: I have played in a volleyball tournament in Brisbane, Australia.
Zachary: I am really into pyrography (decorating wood with burned marks). I also have an extensive koozie collection from various concerts and events I've attended.