Charles Reader, administrative office coordinator for the Golden Library, had a long career in the military before coming to Eastern New Mexico University and winning a 2017 Spirit of Eastern Award.
He oversees the library's budget, purchase cards, office supplies, printing supplies and other duties as assigned. He also recently took over the supervisor duties of the circulation area.
According to Golden Library director Melveta Walker, Mr. Reader has judged the homecoming parade for several years. This semester she delegated supervision of circulation activities to him.
He now supervises a support staff member and is a second-level supervisor for 15-20 student employees. The library is open 100 hours per week, and the circulation desk is covered continuously during those hours.
Mr. Reader says what he enjoys most about his job is interacting with students who come to the library looking for information.
"Ensuring they get what they need makes for job satisfaction," Mr. Reader said. "I also enjoy coworkers and University personnel; being able to work with different departments and getting things done."
Mr. Reader says the Golden Library "is a major starting point for students and faculty in research. It also provides areas for group study and individual study and a place for students and faculty to meet and discuss different topics."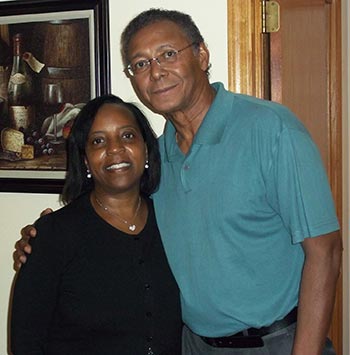 He spent 24 years in the United States Air Force learning about people and managing skills. Three of those years he taught as a field training detachment Instructor, training airmen on systems related to their specialty, reaching the level of master instructor. He also earned the position of branch chief, responsible for four flights (individual sections providing a service for missions).
Mr. Reader won a Spirit of Eastern Award in the support category for outstanding service to the University.
In her nomination letter, Ms. Walker wrote:
"When students or visitors go to Golden Library, it's not always the librarians who are the most helpful. One employee is the 'King of Helpfulness.' He will bend over backward, give a student the shirt off his back—well maybe not literally — but he will do everything possible to get a problem solved. If he doesn't know how to do it, he will contact someone who can. It may involve payroll, signing up for class or where to get your car repaired as cheaply as possible.
"He is Mr. Charles Reader, better known to most students as 'Chas.' Mr. Reader came to Eastern as a retiree from the USAF (Air Force) in 2000, and his friendly, outgoing personality made him a favorite confidante right away. His position has evolved into administrative office coordinator, meaning that he now has the responsibilities of secretary, bookkeeper and office manager.
"You would think that would be about all he could handle, but he arrives early every morning from Clovis, makes sure there is coffee ready, unlocks the doors for the students at 7:30 a.m. and makes sure all equipment is ready for students — all before 8 a.m. He is always available through the lunch hour, and he is always looking for ways to enhance the students' experiences while in the library. No request is too big or too small for him to attend to, especially going after donuts for late night-study.
"He has served in almost all capacities of the Support Senate, serving as president twice, and he is on several University-wide committees. He is one of the library's safety officers and works with Physical Plant to maintain the library building in the best possible condition.
"Even though he directly supervises only four student employees, all 48 student library employees know they can go to him for help or advice. As the father of two grown children and three grandchildren, he has a wealth of experience to share. Now that the library has moved into Bernalillo Hall for the next two years while our building is being renovated, he is the number one person to go to if we need to move shelves, books or boxes.
"I know of no one who is more deserving of the Spirit of Eastern Award than Mr. Charles Reader."
Mr. Reader says he is "married to my best friend for 42 years. We have a daughter, Anaka, and a son, Charles. We also have two Chihuahua pups, Raven and Precious."
He says his philosophy of life is to "never stop learning, never stop growing and never be afraid of change. Learn to agree to disagree and, most importantly, learn to listen."