Elizia Montoya is double majoring in English with Secondary Licensure and communication with an emphasis in journalism at Eastern New Mexico University with the goal of becoming an educator or journalist.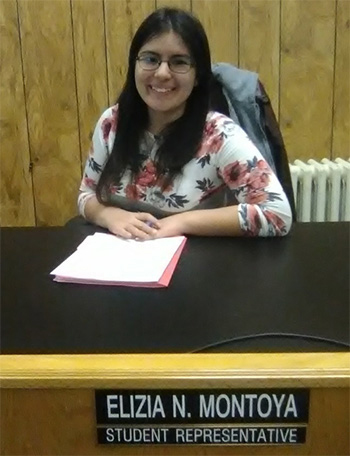 "Whatever career path I end up on, one thing is for certain: I want to leave a positive influence on others, whether that be in the classroom or in the newsroom," she explains.
She discusses potentially becoming a teacher, stating, "I am eager to get into the classroom and serve as a guide and mentor to adolescents who are seeking their own interests. As a future educator, I hope to help inspire youth to find and fulfill their individualized aspirations in life."
Elizia was inspired to pursue a degree in English due to a "love for reading and analyzing the deeper meaning behind the text." She chose to also major in communication in the interest of "being able to share various perspectives and experiences with each other."
The sophomore was born and raised in Sapello, New Mexico, a small ranching community located 20 miles north of Las Vegas, New Mexico. She has two younger brothers, and her father runs the family's ranch.
She chose to attend ENMU because of the "small class sizes and the warm, welcoming community. From my past experiences, it is evident that instructors truly want students to succeed and are here to help them achieve their goals and dreams. To me, ENMU is a home away from home, as it possesses similar attributes to my hometown."
Her favorite part of life as a Greyhound is being a member of "this small, strong and happy community. It's an honor to be here!"
She enjoys going to the Golden Student Success Center (GSSC). "Its title says a lot about what our library stands for, in its endless supply of educational resources," she muses.
When asked which professors have mentored her during her time at Eastern, Elizia shares that, "My list would be endless! I have had numerous professors who have helped me.
"We have some incredibly caring, hardworking and diligent professors here at ENMU who truly care about student success," she continues. "This is one of the unique attributes that Eastern has, which makes me very proud of my decision to further my education here."
The course that stood out the most to Elizia so far was Freshman Seminar with Dr. Kathleen Wagner. "We learned about all the amazing support systems ENMU has to offer," she explains. "Even though the course was entirely virtual, Dr. Wagner still made sure our experience was filled with optimistic, inspiring and meaningful learning."
Elizia is a member of ENMU's Educators Rising chapter and serves as a tutor in the GSSC and in the Advising Center. She was named to the dean's list in fall 2020 and spring 2021 and has received scholarships from "several generous donors." She adds, "I am a proud Greyhound Promise scholar!"
She offers guidance to fellow Greyhounds and Future Greyhounds: "The advice I would give to students not only in my field of study but in any field is to work hard, be persistent and never give up. Stay true to yourself, do not lose sight of your values, morals or beliefs. Most importantly, NEVER forget where you come from!"
Elizia's hobbies include reading, going for walks and spending time in nature and with her family. One of her biggest dreams is to remodel her family home.
Elizia's family during Easter 2021.